ACCEPTABLE RISK by Lynette Eason, 813.6 Eas, Book 2 of Danger Never Sleeps series. Taken from the book blurb: "Sarah Denning is a military journalist with the Army in the Middle East when she is taken hostage. When former Army Ranger Gavin Black is asked by his old unit commander – Sarah's imposing father – to plan an extremely risky rescue, he reluctantly agrees and successfully executes it…Back in the US, Sarah is livid when she's discharged on a false psychiatric evaluation and vows to return to the army…What they uncover may be the biggest story in of Sarah's career – if she can survive long enough to write it….." 
ACTIVE DEFENSE by Lynette Eason, 813.6 Eas, Book 3 of Danger Never Sleeps series. Taken from the book blurb: "Another can't put it down suspense thriller." Readers will be kept on the edge of their seats.
AFRAID OF THE LIGHT by Cynthia Ruchti, 813.6 Ruc. Taken from the back cover: "Clinical psychologist Camille Brooks isn't put off by the lifestyle of her hoarder clients and the distress of their families. She lost her mother to the crippling anxiety disorder – so she'll go a long way to help others avoid the same pain…With the help of a cadre of unexpected friends, an enigma of a man who refuses to be discouraged, and the God who created and loves her, can she face her fears, pull back the curtains, and let the light into her own life?" – This book taught me a lot about a very difficult disorder. I recommend this book. – Janie Carlson. ANOTHER REVIEW: This book addresses a subject I've not previously found in a Christian novel: hoarding. Sadly, this quote from the book is enlightening: "Her disorder had caused her to lose her attachment to what she most loved – her children – while clinging to objects that give false comfort and could not love her back." This book calls for our compassion, not our disapproval. – Reviewed by Alice Hill. 
ALL MANNER OF THINGS by Susie Finkbeiner, 813.6 Fin. "After Annie Jacobson's brother Mike enlists as a medic in the Army in 1967, he mails her the address of their long-estranged father. If anything should happen to him in Vietnam, Mike says, Annie must let their father know…In Mike's absence, their father returns to face tragedy at home, adding an extra measure of complication to an already tense time. Letter by letter, the Jacobsons must find a way to pull together as a family, regardless of past hurts. In the tumult of this time, Annie and her family will grapple with the tension of holding both hope and grief in the same hand, even as they learn to turn to the One who binds the wounds of the brokenhearted."  
ALL THINGS HIDDEN by Tracie Peterson, 813.54 Pet. This is about the 1932 Matanuska Colonization, relocating 200 families from Michigan, Wisconsin and Minnesota to the Matanuska Valley in Alaska, not yet then a state, during the Great Depression. Though a fictional novel, it is based on much historical research as documented in the book. It will be especially interesting to those who've lived in Alaska, as did I in 1954-55. – Reviewed by Alice Hill. 
ALMOST HOME by Valerie Fraser Luesse, 813.6 Lue. "A story of kindness, friendship, and healing. At an Alabama boardinghouse in the 1940s, characters going through troubled times find hope and help through each other." 
ALL SHE LEFT BEHIND by Jane Kirkpatrick, 813.54 Kir. The fascinating story of Jennie who graduated from medical school in 1879. She was one of the first doctors in Portland working with women and children. She was also a social worker. Her expertise was in medical research. Though classed as historical fiction, the book is based closely on real people and events. See author's notes at end of book. Reviewed by Alice Hill.
ANGELS OF MORGAN HILL, THE by Donna VanLiere, 813.6 Van. This book "is filled with unforgettable characters who show us the ways and means of the heart and prove that even in the darkest hours, we are never truly alone."
ANXIOUS FOR NOTHING by Max Lucado, 248.8 Luc. Taken from the back cover: "Do you feel weighed down with worry? Does the road you're traveling loom large with mountains to cross, obstacles to avoid, and hairpin curves to navigate? Could you use some calm? If so, I have a scripture for you to read. Be anxious for nothing, but in everything by prayer and supplication, with thanksgiving, let your requests be made known to God, and the peace of God, which surpasses all understanding, will guard your hearts and minds through Christ Jesus. Philippians 4: 6-7 is the most underlined passage in the Bible. According to this promise, anxiety comes with life, but it doesn't have to dominate your life. With God as your helper and this verse at your side, you can sleep better tonight and smile more tomorrow. You can talk yourself off the ledge and view bad news through the lens of sovereignty. You can discover a life that is characterized by calm and develop tools for facing the onslaughts of anxiety…."- Max Lucado."
ARMED AND DANGEROUS: PRAYING WITH BOLDNESS by Jane L. Fryar, 242 FRY. Taken from the back cover: "Scripture invites us to approach the throne of grace boldly through Jesus Christ. So why don't we do it more consistently and with more confidence? Perhaps it is because we do not see ourselves as God sees us…warriors in His army of light. Armed and Dangerous-that's how Satan's armies of darkness see you, no matter how young, weak, or ineffective you feel. Because you can pray and because God invites you to come to Him, you can and do make a difference in the war between the armies of darkness and the army of light. When you pray, "Thy Kingdom come," Satan trembles." I noticed that a dear young woman I know, not a member of our church, checked this book out. She returned it to me just before she left in August 2021 to take part in an 11-month across the globe journey with Adventures in Missions, a World Race program. A statement on her blog says, "I will be sharing the love of Jesus with these individuals who don't have hope in Jesus. I hope to have the opportunity to share with them who very possibly will make an eternal impact and change the trajectory of their earthly lives." – Janie Carlson.
ART OF LOSING YOURSELF, THE by Katie Ganshert, 813.6 Gan. Taken from the back cover: "Every morning, Carmen Hart pastes on her made-for-TV smile and broadcasts the weather. She's the Florida panhandle's favorite meteorologist, married to everyone's favorite high school football coach. They're the perfect-looking couple, live in a nice house, and attend church on Sundays. From the outside, she's a woman who has it all together. But on the inside, Carmen struggles with doubt. She wonders if she made a mistake when she married her husband. She wonders if God is as powerful as she once believed. Sometimes she wonders if He exists at all. After years of secret losses and empty arms, she's not so sure anymore…Until Carmen's sister – seventeen-year-old runaway, Gracie Fisher – steps in and changes everything. Gracie is caught squatting at a boarded-up motel that belongs to Carmen's aunt, and their mother is off on another one of her benders, which means Carmen has no option but to take Gracie in. Is it possible for God to use a broken teenager and an abandoned motel to resurrect a woman's faith and marriage? Can two half-sisters make each other whole?"
AUTUMN BLUE by Karen Harter, 813.6 Har. I thought this book very realistic and timely. I couldn't have come up with a better summary than the one on the back of the book: "Sidney Walker is doing her best at raising her three children alone. But lately her sweet teenage son, Ty, has become broodingly angry. When the deputy sheriff arrests Ty and later invades her home with a search warrant connected to another local crime, Sidney is overwhelmed. As much as she wants to believe her son is innocent, the evidence is too strong to ignore. She fights to save her son and give him renewed hope. Though her options seem very limited, she finds she is not as alone as she thinks, and the solution may be in the most unlikely of people." – Reviewed by Alice Hill. 
BABYSITTER'S HANDBOOK, THE by Sarah Fletcher found at 649.1 Fle. Maybe there are some young people out there thinking about earning some money during the summer.  There always seems to be the need for good babysitters.  I was thinking of that a couple of weeks ago so I went to the card catalogue and found this book.  Inside you'll find 15 chapters about how to do your job, what to expect, and what is expected of you.  Included are suggestions for stories, games, and activities and hand forms to help you get all the information you need to do the best job possible. This book was put into circulation in 2007 from a Marie Mueller Memorial fund (maybe some of you remember Marie from the town library), but the information still holds true. – Reviewed by Darlene Baltus.
BEARS' PICNIC, THE by Stan & Jan Berenstain, JUV BER. 
BEFORE I CALLED YOU MINE by Nicole Deese, 813.6 Dee. "With its unique right-love-wrong-timing premise, this is a novel that will keep readers ignoring their chores, reaching for their tissue boxes, and sighing with contentment. It's fresh, soul-stirring, and romantic…" 
BEFORE I SAW YOU by Amy Sorrells, 813.54 Sor. A very faithful reader writes: Merely by coincidence, two newly shelved books in our library by completely different authors, have a similar theme – two young pregnant girls from disastrous backgrounds with no chance of ever having a hope-filled life: BEFORE I SAW YOU and DEAR CAROLINA by Kristy Woodson Harvey, 813.6 Har. After reading these, it reminds me of Gen. 18:14 where God says "Is anything too hard for the Lord?"     
BELOVED HOPE CHEST, THE by Amy Clipston found at 813.6 Cli. This information came from the back of the book: Mattie Fisher's three daughters know that she's been keeping a secret from them. With each item pulled from the beloved family hope chest, they've discovered a new clue about their mother's past. But there's a reason Mattie has been keeping her history hidden, and she's not sure she's ready to open old wounds. This book has a glossary for Amish terms and discussion questions at the end. 
BERENSTAIN BEARS DO THE RIGHT THING, THE BERENSTAIN BEARS KEEP THE FAITH, and THE BERENSTAIN BEARS SAY THEIR PRAYERS. They can be found in the children's section.
BETWEEN TWO WORLDS - Escaping from Tyranny: Growing up in the Shadow of Saddam by Zainab Salbi, at 92 Sal. "The highly anticipated memoir from the daughter of Saddam Hussein's personal pilot: An unforgettable story of survival, strength, and one woman's struggle against tyranny." "In this intimate portrait, she reveals the tyrant through the eyes of a child, a secretly rebellious teenager, an abused wife, and ultimately a professional woman." "Between Two Worlds is a story of heroism like no other."
BEYOND THE ORPHAN TRAIN Series books 1 – 4 by Arleta Richardson. Written in the tender style of Little House on the Prairie, this series tells the story of the Cooper children as they take the orphan train to a new life in the early 1900s. Based on the life of a real family, this charming four-book series is rich in history, adventure and faith. 
BILLY GRAHAM NEARING HOME – LIFE, FAITH, AND FINISHING WELL by Billy Graham, 236 Gra. "Explore with me not only the realities of life as we grow older but also the hope and fulfillment and even joy that can be ours once we learn to look at these years from God's point of view and discover His strength to sustain us every day." – Billy Graham.
BLACK SANDS by Colleen Coble, 813.54 Cob. Taken from a Goodreads summary: "A brainy—and perpetually single—volcanologist, Annie Tagama works alongside her father at Hawaii Volcanoes National Park. But despite her pedigree, Annie has lost her passion for volcanology. She's quietly grieving the mysterious loss of her brother in the Middle East. When Annie discovers that her brother might still be alive—and in trouble—she shakes off her malaise and joins forces with Mano Oana, the unnervingly handsome family friend she had always blamed for her brother's death." 
BLOWING ON DANDELIONS by Miralee Ferrell, 813.54 Fer. Book 1 of the Love Blossoms in Oregon series. "Do dandelion wishes actually come true? Katherine Galloway knows the moment of calm she is feeling won't last, blown away like the dandelion seeds she scattered as a girl. It's 1880, three years after her husband's death, and she's struggling to run an Oregon boardinghouse and raise two girls alone. Things don't get easier when her critical, domineering mother moves in. Katherine must make the situation work,  but standing up for herself and her family while honoring her mother isn't easy. And with a daughter soon to turn fourteen, the pressure on Katherine becomes close to overwhelming. Then she crosses paths with Micah Jacobs, a widower who could reignite her heart, but she fears a relationship with him might send things over the edge. She must find the strength, wisdom, hope, and faith to remake her life, because everything is about the change."
BLUE RIDGE SUNRISE  by Denise Hunter, 813.6 Hun. "Former free spirit Zoe Collins swore she'd never again set foot in Copper Creek or speak to the man who broke her heart. But return she must when her beloved Granny dies, leaving the family legacy to Zoe – a peach orchard nestled at the base of the Blue Ridge Mountains." 
BRINGING MAGGIE HOME by Kim Vogel Sawyer, 813.6 Saw, Bk 1. This book is the prequel to UNVEILING THE PAST which we also have on the shelf. Feel free to check out both at the same time. "High praise for Kim Vogel Sawyer's BRINGING MAGGIE HOME! Kim intricately weaves the lives of three generations of women, each one affected by the tragedy of Hazel's losing a sister long ago. The depth of the characters and God's perfect timing are illustrated throughout their journeys. Already an award winner and a best seller, Kim takes her wonderful story to an extraordinary new level of writing." – Dianne Burnett, Publishers Weekly reviewer
BRYSON CITY TALES by Walt Larimore, M.D., 92 Lar. Among the many wonderful new books that have been added to our library recently, remains a gem that's been here since 2007. Walt tells of his first years of practice as a very young man in the Great Smoky Mountains of North Carolina. Little did he know that not only were the doctors there not impressed with his Duke University education, but that he would learn much from them through their use of many folk remedies and treatments. Written with warmth and humor, but also relating some highly emotional and serious situations, this is a "feel good" book. – Reviewed by Alice Hill.
BURIED SECRETS by Irene Hannon, 813.54 Han. Bk 1 of the Men of Valor series. Bones are discovered buried shallowly in an isolated field being excavated for construction. Local police chief, Lisa Grant, is called in to investigate along with a handsome ex-Navy Seal, now a county investigator. The investigation slowly uncovers deeply hidden secrets going back more than 20 years. There is also a budding romance that builds along with the investigation between Chief Grant and the county investigator. All this while the shadows from the past creep closer by a force to be reckoned with, that wants to prevent the truth from being revealed. Excitement mounts. It was a good read, hard to put down. – Reviewed by Corinne Hultman. 
CAMERA NEVER LIES, THE by David Rawlings, 813.54 Raw. "When Daniel inherits an old camera from his grandfather, he notices an inscription on the bottom: 'No matter what you think you might see, the camera never lies.' Daniel begins using the camera, but every time he develops his photos, they threaten to reveal secrets that could sabotage both his marriage and his career – and destroying the life he has worked so hard to build." The author says that the theme of the book is about the price of accepting honesty with others and ourselves. This was a really strange and interesting book. Readers - let me know what you think. – Review by Janie Carlson.  
CAPTAIN FOR LAURA ROSE,  A by Stephanie Grace Whitson, FIC Whi. "Laura has lost everything she loves; and now she is also about to lose her home, a steamboat called the Laura Rose. Her only hope is to become a licensed pilot; but, as a woman living in 1863 that is easier said than done… Whitson does an excellent job of incorporating spiritual themes of trust, obedience, faith, love, and sacrifice with Bible verses without getting too preachy…This story is mainly geared toward young women, but older teens who admire self-confident females will find this book captivating as well. Mature themes are present but not graphically described."
CAPTIVE IN IRAN by Maryam Rostampour and Marziyeh Amirizadeh, at 92 Ros. This is a true story of hope and triumph amid the horror of Tehran's brutal Evin Prison. We don't understand God working in our lives until afterwards and then maybe not then. These two women were imprisoned in 2009 because they proclaimed to be followers of Jesus in an Islamic country. They never denied it and God worked what was evil for good. They could talk about Jesus more freely inside prison than outside. God used them for 259 days in Evin Prison giving hope to those imprisoned there. – Reviewed by Darlene Baltus.
CENTER OF GRAVITY by Laura McNeil found at 813.6 McN. This is a book, that after reading it, the story will stay with you for a while. Thought provoking, uncomfortable, angry, wanting to get into the story to help these characters were some of the reactions I had. I'm not sure it is considered a Christian book; would like feedback from readers! Ava Carson's picture-perfect marriage begins unraveling at the seams, yet she considers it temporary. The chapters tell the story as each character enters. Center of Gravity weaves a chilling tale, revealing the unfailing and dangerous truth that things – and people – are not always what they seem. Reviewed by Darlene Baltus.
CHARACTER SKETCHES – FROM THE PAGES OF SCRIPTURE ILLUSTRATED IN THE WORLD OF NATURE 241 Ins. This over-sized book contains animal stories that have a biblical base. "Beautiful book, very intentionally written. Great for family devotions and discussion." 
CHASING THE WIND by Pamela Ewen found at 813.6 Ewe. Young Amalise Catoir, with her hard-won law degree, was a junior associate in a very prestigious New Orleans legal firm. Excited at her newest assignment in a multi-million dollar deal in the very complex world of big deals and high finance, she found herself in an adversarial position to that of her firm, threatened with losing her job, her license, and her good reputation. You'll find the surprise ending in this great new book in our library. Reviewed by Alice Hill.
CHICKEN SOUP FOR THE GRANDPARENT'S SOUL by Jack Canfield, 808.8 Can. "Stories to open the hearts and rekindle the spirits of grandparents." 
 CHICKEN SOUP FOR THE SOUL: THE POWER OF FORGIVENESSby Amy Newmark, 808.8 New. 101 stories about how to let go and change your life. 
 CHILDREN'S BOOK ABOUT DISOBEYING, A by Joy Berry, JUV BER.  
CHOSEN PEOPLE by Robert Whitlow, 813.54 Whi. "My verdict: compelling, realistic, and inspiring. Robert combines the intensity of a legal battle against terrorists with a poignant depiction of Israel, with all its tensions and grandeur. As a lawyer who handles cases for terrorism victims, I loved the realism of the novel and felt deeply the joys, disappoints and triumphs of its characters. But the matters of the law were eclipsed by matters of the heart – faith, love and hope in the midst of despair – this is where Whitlow truly shines." – Randy Singer.  
CHRISTMAS IN WINTER HALL by Melody Carlson, 813.54 Car. Taken from the book blurb: "Spend this holiday season in a town you'll never forget. Krista Galloway has a good reason to dislike the holiday season, but when her new job as city manager forces her to plan the town's over-the-top Christmas celebration, she and her daughter may find a new home – and some Christmas spirit – in the process."  
CHRISTMAS SWAP, THE by Melody Carlson, 813.54 Car. Taken from the book blurb: "All Emma Daley wants this holiday season is a white Christmas. But the young teacher and struggling musician sure can't find that in sunny Arizona. Luckily, there's someone living in a perfect mountain home in the Colorado Rockies looking to make a vacation trade. Tyler Prescott is an in-demand songwriter and talented musician who put his own singing career on hold to write songs for celebrity acts to perform. When his mother convinces him to do a vacation trade for Christmas, he never imagined one of the houseguests would be so sweet – or so strikingly pretty." 
CITY OF REFUGE by Ashley King, 813.6 Kin. A horrible accident took the lives of the mother and 3 young children. Alex was the other car's driver. The surviving family members blamed him (as did he himself) and blamed God. The father, a Baptist pastor, quit the ministry, living a solitary life of bitterness and blame. Can anything be salvaged from this tragedy? The book's title is based on Numbers 35:11 and you'll see why as you read this story. Reviewed by Alice Hill.
CLAIM OF HER OWN, A  by Stephanie Grace Whitson, FIC Whi. This book has been around since 2010 but not many readers have checked it out. Determined to put the unspeakable circumstances of her past behind her, 20-year-old Mattie O'Keefe travels to Deadwood, South Dakota in search of her brother, whose letters boast of making a fortune in the gold fields.
COLLATERAL DAMAGE by Lynette Eason, 813.6 Eas. Bk 1 of the Danger Never Sleeps series. Taken from the back cover: "Honorably discharged from the Army after an explosion nearly killed her, former military psychiatrist Brooke Adams has set up shop to help others, but her days of helping military personnel is over. She's got her own battles to fight from her time overseas, and she's not equipped to take on more…Former Army Special Ops Sergeant First Class Asher James could handle anything that the war sent his way. The only thing that scares him now is sleep. As the shadows close in, the nightmares begin…Finally convinced that he needs help, Asher makes an appointment with a counselor. When he arrives at her office, she isn't there – but a dead body is. When it becomes clear that Brooke was the real target of the attack – and that her secrets go even deeper than his own – Asher vows to protect her no matter what." 
CONVICTION: The Journey of a Lost Principled Man by Don Wharton, 92 Wha. "David Freeman, a clean cut 25-year-old professional salesman, believes he has all of his ducks in a row until he meets Joani Givens, her drug dealing roommate, and a Jesus he never knew existed. His experiences change his life forever, testing his faith in everything he believes about God, his family, and his ability to handle adversity. CONVICTION is David's great spiritual awakening and has application for every man who deals with his fears, uncovers the short falls of his own self-worth, and explores the depth of his dependence on God. David emerges from his struggles as a man of conviction, man of God, who recovers from getting knocked down to continue the adventure of life before him." 
COTTAGE BY THE SEA by Robin Jones Gunn, 813.54 Gun.  Wow, this book will stay in my mind for some time.  A daughter's heartbreak with a father, a son's estrangement from his family and a beautiful ending all mixed with Iris lyrics.  Gunn has pulled me through so many emotions. This book was written more on Gunn's experience than storytelling.  Definitely a page turner. – Reviewed by Darlene Baltus. 
COUNTERFEITER by Moritz Nachtstern and Ragnar Arntzen found at 940.53 Nac.   In 1945 Moritz Nachtstern sat down in his Oslo apartment and dictated the story of how he survived the Holocaust.  First published in Norwegian in 1949, this English edition is complemented by a foreword by his daughter Sidsel.  This must have been a hard story to tell and I found it a hard story to read. – Reviewed by Darlene Baltus.
CROSS MY HEART  by Robin Lee Hatcher, 813.54 Hat. "In this seamless time slip novel, Hatcher provides inspiration in each character's growing relationship with the Lord, and prompts readers to reflect on their own journey. This story of loss and redemption is sure to win the hearts of contemporary and historic romance fans alike."  
DANCE, THE 813.6 Wal, book 1 of the Restoration Series by Dan Walsh & Gary Smalley. "Love's recovery starts with a single step. This powerful and emotional story of healing and restoration is sure to grip your heart from the very first chapter. You won't be able to put it down." 
DANIEL: SHELTER BOOK 2 by Robin Merrill, FIC Mer. Taken from the back cover: "Open Door Church has served as a homeless shelter for more than a decade, but when their pastor dies unexpectedly, it's up to Galen and Maggie to take up the reins and keep the ministry going, which won't be easy, as newcomers seem intent on tearing it down…And then there's young Daniel, who seems to be working miracles in their midst, which of course, isn't possible. Or is it?" 
DANGEROUS ILLUSIONS by Irene Hannon found under 813.54 Han (Book 1). The following is copied from an on-line review: "Trish Bailey is on overload trying to deal with a demanding job, an ailing mother, and a healing heart. When a series of unsettling memory lapses leads to a tragic death—and puts Trish under police scrutiny—her world is once again thrown into turmoil. Detective Colin Flynn isn't certain what to think of the facts he uncovers during his investigation. Did Trish simply make a terrible mistake or is there more to the case than meets the eye? As he searches for answers, disturbing information begins to emerge—and if the forces at work are as evil as he suspects, the situation isn't just dangerous . . . it's deadly. Bestselling and award-winning author Irene Hannon captures readers with a mind-bending story that will have them doubling back to retrace their steps—and figure out what they missed!" 
DAUGHTER OF ROME  by Tessa Afshar, 813.6 Afs. "Afshar imagines the multi-textured lives of Priscilla and Aquila, coworkers of the apostle Paul, as they are stretched and shaped through their losses and love. What emerges is a compelling story about their faith and faithfulness – a story that invites our response of faith and faithfulness as well." Please note that our library has another book by this author – THIEF OF CORINTH, 813.6 Afs. 
DEADLY DECEIT by Natalie Walters, 813.6 Wal Bk 2 of Harbored Secrets series. "Welcome back to Walton, Georgia, where everyone knows your name – but no one knows your secret…" "A delicious hero, heart-pounding suspense, and an intricate weaving of a heroine's journey make DEADLY DECEIT one of my top-of-the-top favorites of the year! Natalie Walters brings it all together with an ending that will stick with you long after you close the book." – Jaimejo Wright, author. Please note that our library also has LIVING LIES Bk 1 and SILENT SHADOWS Bk 3. 
DEAR CAROLINA  by Kristy Woodson Harvey, 813.6 Har. Taken from the book back cover: "One baby girl. Two strong Southern women. And the most difficult decision they'll ever make…Frances "Khaki" Mason has it all: a thriving interior design career, a loving husband and son, homes in North Carolina and Manhattan – everything except the second child she has always wanted. Jodi, her husband's nineteen-year-old cousin, is fresh out of rehab, pregnant, and alone. Although the two women couldn't seem more different, they forge a life-long connection as Khaki reaches out to Jodi, encouraging to have her baby. But as Jodi struggles to be the mother she knows her daughter deserves, she will as Khaki for the ultimate favor….Written to baby Carolina, by both her birth mother and her adoptive one, this is a story that proves that life circumstances shape us but don't define us – and that families aren't born, they're made…" Another page turner that was hard to put down! – Janie Carlson. 
DEMOLISHING SUPPOSED BIBLE CONTRADICTIONS  Exploring Forty Alleged Contradictions by Ken Ham (and others) found at 239.23 Ham. Some of you may recognize Ken Ham as part of The Answers in Genesis series. From Genesis to Revelation the book brings out the questions and answers that refute it with Bible citations. There are many questions that are spoken by Christians and non-Christians alike. Some thoughtful reading!  Reviewed by Darlene Baltus.
DESTINED FOR YOU by Tracie Peterson, 813.54 Pet, Bk 1 of Ladies of the Lake series. Taken from the book blurb: "Can she withstand the storms of life that blow her way? Gloriana Womack's family is much smaller since scarlet fever killed her mother and two of her siblings. She's dedicated her modest life in Duluth, Minnesota, to holding the remains of her fractured family together, caring for her father and younger brother. But it is hard not to be overrun by worry when her father is often gone on long fishing trips, their livelihood coming from the waters of the temperamental and sometimes deadly Lake Superior." 
DEWEY the LIBRARY CAT by Vicki Myron, 92 Myr. Taken from the back cover: "Abandoned in a library book drop slot in the dead of winter, the small kitten who came to be known as Dewey Readmore Books miraculously endured the coldest night of the year. When librarian Vicki Myron found him in the morning, she wrapped him in her arms, gave him his first bath, and then introduced him to his new home: the library."  This book is a delightful read for young and old. It gave me such pleasure to read about this special kitten who grows up in a public library and is beloved by everyone who enters. Dewey had way of making everyone he met feel that he was their special cat. Please take time to read this book, you'll be glad you did! – Janie Carlson.
DISTANT SHORE, A by Karen Kingsbury, 813.54 Kin. Taken from the back cover: "She was a child caught in a riptide in the Caribbean Sea. He was a teenager from the East Coast on vacation with his family. He dove in to save her, and that single terrifying moment changed both their lives forever…Ten years later, Jack Ryder is a daring undercover agent with the FBI and Eliza Lawrence still lives on that pristine island. Only now she's the untainted princess in a kingdom of darkness and evil, on the brink of a forced marriage with a dangerous neighboring drug lord, a marriage arranged by her father…This time when Jack and Eliza meet, both their lives are on the line, and once again, the stakes are deadly high. Can they join forces in a complicated and dangerous mission, pretending to have a breathtaking love…without really falling for one another? ...Sometimes miracles happen not once, but twice…on a distant shore."   
EDGE OF BELONGING, THE by Amanda Cox, 813.6 Cox. "When Ivy Rose returns to her hometown to oversee her late grandmother's estate sale, she soon discovers that the woman left behind more than trinkets and photo frames – she provided a path to the truth behind Ivy's adoption. Shocked, Ivy seeks clues to her past, but a key piece to the mystery is missing…Twenty-four years earlier, Harvey James finds an abandoned newborn who gives him a sense of human connection for the first time in his life. His desire to care for the baby runs up against the stark fact that he is homeless." This is a dual-timeline story and it kept my interest throughout, though at times I got confused and had to do some rereading! It was well worth the time it took to read and I totally recommend this book! – Review by Janie Carlson.
ECLIPSE OF THE SOUL, AN - Christian Resource on Dealing with Suicide at 248.8 Hos. This book "is a compassionate resource on the motives, myths, and effects of suicide. Having recovered from an unsuccessful suicide attempt herself, Helen Kooiman Hosier writes like few can, providing not only sound biblical counsel and resources for suicide prevention but also understanding, empathy, and hope."
EL DEAFO  by Cece Bell, found in the youth section. This is a Newberry Award-winning graphic novel about being different and finding a true friend. It's both humorous and poignant. Aimed at middle schoolers, the book is loosely based on the author's own experience as a deaf child attending a "normal school." 
ENDLESS CHRISTMAS, AN by Cynthia Ruchti, 813.6 Ruc. Taken from the book blurb: "Both in their eighties, Dodie and Wilson Binder celebrate every Christmas as if it were their last. This year, their only grandson, Micah, asks his girlfriend, Katie, to marry him – in front of the whole Binder family. But things go terribly wrong when she says no. Now Katie is stuck. Too many people, too much snow, and too little room should be a recipe for disaster. But, sometimes too much is just enough. Especially, when it's Christmas." I highly recommend reading this book. – Janie Carlson. 
ENDURING CLASSICS OF BILLY GRAHAM: THE SECRET OF HAPPINESS, HOPE FOR THE TROUBLED HEART, DEATH AND THE LIFE AFTER, THE by Billy Graham, 236 Gra. Billy Graham, the world-renowned author, preacher, and evangelist, has delivered the gospel message to more people face-to-face than anyone in history and has ministered on every continent of the world.  
ESSENTIAL WORKS OF ANDREW MURRAY – 12 COMPLETE BOOKS COVERING THE ENTIRE CHRISTIAN LIFE by Andrew Murray, 248.4 Mur. Includes complete scripture index and over 800 life application questions to encourage spiritual growth.  
EVEN NOW by Karen Kingsbury, 813.54 Kin. Karen has crafted a superb story of ordinary flawed people. Emily was born to 17 year old parents still in high school and was raised by her grandparents. She hadn't known how both families made sure Emily's parents were permanently separated from each other. As many problems arose, Emily never lost her faith but as much as she and her grandparents prayed, God just didn't seem to be listening. But 19 long years later in an amazing turn of events, they realized that God had indeed answered their prayers, just not in their timing or in the way they had always asked. This is a book about forgiveness and reconciliation found in the large print section of our library. Have a box of tissues ready as you read this stirring book. - Reviewed by Alice Hill. 
FACING THE DAWN by Cynthia Ruchti, 813.6 Ruc. Taken from the back cover: "While her humanitarian husband Liam has been digging wells in Africa, Mara Jacobs has been struggling. She knows she's supposed to feel a warm glow that her husband is eight time zones away, caring for widows and orphans. But she is exhausted, working a demanding yet unrewarding job, trying to manage their three detention-prone and needy kinds, failing at her to-repair list, and fading like a garment left too long in the sun…Then Liam's three-year absence turns into something more, changing everything and plunging her into a sunless grief. As Mara struggles to find her footing, she discovers that even when hope is tenuous, faith is fragile, and the future is unknown, we can be sure we are not forgotten…or unloved." – When I first starting reading it, I thought to myself "I hope nobody that's already feeling hopelessly overwhelmed reads this. It sure won't lift their spirits." It wasn't until the very end of the book that a beautiful and peace-filled plan to all that transpired becomes obvious. (Sound kinda like life?) It is an exceptionally good book. – Review by Alice Hill. 
FINAL GIFTS: UNDERSTANDING THE SPECIAL AWARENESS, NEEDS AND COMMUNICATIONS OF THE DYING by Maggie Callanan, 236 Cal. Written by two hospice nurses who share their intimate experiences with patients at the end of life. Filled with practical advice on responding to the requests of the dying and helping prepare them emotionally and spiritually for death, this book shows how we can help the dying person live fully to the very end.  
FLASH POINT  by Thomas Lock, 813.54 Loc, book 2 in the Fault Lines series. "This book is a true psychological thriller that cannot be put down…An awesome jaunt into a world that may just be closer to reality than we think." "In the clash of science, government, and big business, one thing remains clear: what you don't know can kill you." 
FLIGHT RISK by Cara Putman, 813.6 Put. "Cara Putman does it again. A plane crash, murders, a traumatized teen, and a crack lawyer who will do whatever it takes to protect her family and her clients. Throw in a little romance and FLIGHT RISK is a brilliantly woven story that takes the reader on a breath-stealing ride. I highly recommend this book." Lynette Eason, author of The Blue Justice Series.  "In her legal thriller, Putman weaves a story that proves what you read in the news isn't always what it appears to be. Separating truth from what is perceived to be true takes her characters on a journey with twists and turns that will keep the reader turning the pages, anxious to see how it all fits together." Martha Rogers, bestselling author.  
FOREVER FRIDAY by Timothy Lewis, 813.6 Lew. "Tim has masterfully woven a simple love story, intertwining the joy of new love, the challenge of enduring love, the hope of renewed love, and the joy of lasting love into a beautiful and complex tapestry. Not only does Tim tell a delightful story, he also inspires us all to renew our love and to deepen our relationships. FOREVER FRIDAY will make young lovers dance, old lovers smile, and everyone else who dreams of love strive for better Fridays." "Every Friday, a postcard. Every Friday, a love poem. Every Friday, for sixty years." 
FORGIVING PARIS by Karen Kingsbury, 813.54 Kin. Taken from the back cover: "Could Ashley Baxter Blake's journey to forgiveness lead her back to the City of Lights?...In Indiana, Ashley and her husband are about to take an anniversary trip to Paris, where a French gallery will show her paintings. But Ashley is hesitant. More than two decades ago, she made her most grievous mistake in the City of Lights. She has never forgiven herself for what happened there and still harbors secrets she is afraid will be revealed. Just before the trip, Ashley gets a call from her niece living in Paris. Jessie explains that her boyfriend's mother, Alice, remembers working at a bakery with an American named Ashley. "Could that be you?" When Alice and Ashley meet, a flood of memories comes for both women, taking Ashley back to a reckless affair and an unexpected pregnancy, and Alice to the night she nearly ended it all. Can this reunion bring healing and closure? Maybe it is finally time for Ashley to forgive herself…and Paris."
FRAGMENTS OF FEAR  by Carrie Stuart Parks, 813.6 Par. "…is a heart-stopping read of suspense and God's mercy and grace. Tavish is the type of character who grips you tight in her clutches and takes you along on a wild ride until you turn the last page. It's a stay-up-late-to-finish novel. Highest recommendation!"  
 GIFTED HANDS – THE BEN CARSON STORY by Ben Carson, M.D. at 92 Car. "Dr. Ben Carson is known around the world for breakthroughs in neurosurgery that have brought hope where no hope existed. In Gifted Hands, he tells of his inspiring odyssey from his childhood in inner-city Detroit to his position as director of pediatric neurosurgery at John Hopkins Medical Institutions at age thirty-three. Taking you into the operating room where he has saved countless lives, Ben Carson is a role model for anyone who attempts the seemingly impossible." "Filled with fascinating case histories, this bestselling book tells the dramatic and intimate story of Ben Carson's struggle to beat the odds – and of the faith and genius that make him one of today's greatest life-givers." 
GRACE UPON GRACE – SPIRITUALITY FOR TODAY by John W. Kleinig, 248.322 Kle. Taken from the back cover: "The longing for spiritual fulfillment, inevitably paired with spiritual frustration, is common among Christians. Do we read and study the Bible enough? Do we worship often and in the right way? Do we pray enough, in the correct way, and for the right things? How do we become truly spiritual? And the answers from numerous self-help spirituality books only lead to confusion and the fear of missing key steps on the road to becoming spiritual. In response, John W. Kleinig clarifies that there is no process for becoming spiritual. Instead, God graciously gives to us every spiritual gift that we need, beginning with the very gift of faith in Christ, our Savior. Because God has joined us to Christ, He continually comes to give life." 
GRANDMA'S ON THE GO by Carol V. Weishampel, Ed. D. found at Fiction Wei.  A single mom and her passel of kids hit the road with guts and gusto.  If you like to travel and camp, you will enjoy reading about trips taken from Texas to Montana and points leading from Austin to the state parks in Texas.  Cooking over open fire?  There are recipes in the back along with travel guides and check lists.  This was a fun read. – Reviewed by Darlene Baltus.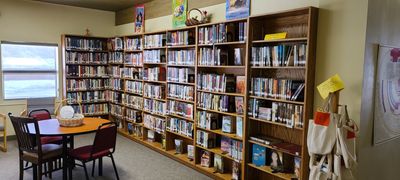 GRANDPA'S MUSIC: A story about Alzheimer's by Albert Whitman, found in Juvenile books. This book lovingly portrays the story of a family dealing with Alzheimer's disease. The colorful illustrations and large type make it an excellent choice for reading to groups of children. Grandpa comes to live with his family in their home. Each family member has responsibilities for his care. He loves singing and playing the piano which encourages his ability to communicate as his Alzheimer's disease progresses. In the end he enters an elderly care facility. The book is written to increase understanding of Alzheimer's disease by young children ages 4 – 10. (Review taken from Libraries Alive.)  
HANNAH GRACE by Sharlene MacLaren, 813.6 Mac, Bk 1 of Daughters of Jacob Kane series. Growing up in the west Michigan resort town of Sandy Shores in the early 1900s, Hannah Grace, the eldest of Jacob Kane's three daughters, "is feisty and strong-willed, yet practical. Between working at her father's general store and courting the town's physician, Ralston Van Huff, Hannah has her life planned out in an orderly, meaningful way. Or so she thinks. Hannah's world turns upside down when the new sheriff comes to town. Gabriel Devlin is strong, outspoken, and a Christian to boot – but he's sworn off women, having met ones mostly interested in money and apathetic about God. Determined to ignore the newcomer's handsome looks, Hannah is drawn to him nonetheless by a shy, runaway orphan boy named Jesse. While Hannah works to befriend the shy vagabond, who's living with Gabriel until other arrangements can be made, God works in her heart. What plans does He have in store for this young woman who thought she had it all together?" 
HAVEN FOR HER HEART, A by Susan Anne Mason, 813.54 Mas, Book 1 Redemption's Light. Taken from the back cover: "Upon her release from a woman's reformatory in 1941 Toronto, Olivia Rosetti wants nothing more than to forget the horrors of her time there and return to normal. But with her family unwilling to forgive and employers wary of hiring her, she quickly ends up desperate and homeless – until a chance encounter with well-to-do widow Ruth Bennington. The two discover they share a painful history and together decide to open a maternity home for troubled women." 
HEALER'S TOUCH, THE  by Lori Copeland, 813.54. "It's 1887, and Lyric Bolton doesn't ask for much – just friendship and acceptance from her rural Missouri community. But her family is regarded with suspicion and fear because of her mother's sickness – a sickness that of the mind that grows worse by the day. Lyric is resigned to a life of isolation and doesn't see a way out…but that's before Ian Cowley bolts into her life on a runaway stallion…A tender story of God's love and faithfulness…even when all hope seems lost."   
HEALING THE HEARTBREAK OF GRIEF by Peter James Flamming, 242.4 Fla. Flamming speaks of the positive wisdom of grief that seeks to take the pain of our loss, and in time, recycle it for our good. This I can do today – remember that God works in all things, past, present, and future. Each chapter closes with "This I can do today" and "This I can remember today" bit of advice. It is written in the language of a layperson.
HEART FOR HOME, A by Lauraine Snelling, 813.54 Sne book 3 of Home to Blessing series. Our library also has books 1 and 2. Taken from the back cover: "Is love forever out of reach if she pursues God's calling? …Astrid Bjorklund is on the Red Bud Indian Reservation in South Dakota trying to stop the horrific epidemic that is ravaging the tribe. The elders are suspicious of her, but when they see some of their people beginning to recover, they allow Astrid to continue caring for the sick and to train others to help…Upon returning to Blessing, she learns that the man she thought she loved cannot accept that God has called her to be a doctor. Heartbroken, Astrid fears she may have to give up her dream of marriage and family."  
HEAVENLY MAN, THE by Brother Yun, 92 Yun was reviewed years ago by Jeanene Christianson. She said upon reading the back cover, "I was hooked. This is an appealing read! You feel like you are reading a twenty-first century rendition of the book of Acts. I smiled often but I wept too. Christianity is a rare gift that we don't treasure as much as we should. Christian Brother Yun was remarkably chosen by God to be His present day apostle at the age of 16! Though he was hunted by China's Public Security Bureau at every turn for the crime of preaching Jesus Christ, his gift of faith was the driving force to give his all to Jesus Christ, his Savior. After reading this book, I will revere my relationship with Jesus even more."
HEIRLOOMS by Sandra Byrd, 813.54 Byr. With the enchanting Washington State Puget Sound as a backdrop, and set in both modern-day and midcentury, this story of four women intertwines across generations to explore the secrets we keep, the love we pass down, and the heirlooms we inherit from a well-lived life."
HER EVERY MOVE by Kelly Irvin, 813.6 Irv. Taken from the book blurb: "When a deadly bomb goes off during a climate change debate, librarian and event coordinator Jackie Santoro becomes the prime suspect. Her motive, according to Detective Avery Wick: to avenge the suicide of her prominent father, who was accused of crimes by a city councilman attending the event…"
HIDDEN AMONG THE STARS by Melanie Dobson, 813.6 Dob. Taken from inside the front cover: "…is a glorious treasure hunt, uniting past and present with each delightful revelation. Dobson celebrates faith and the strength of human spirit in true-to-life settings, high-stakes decisions, and heart-gripping characters. It's a must-read historical fiction that left me pondering well-crafted twists for days." – Mesu Andrews, award-winning author of ISAIAH'S DAUGHTER. 
HIGH HURDLES by Lorraine Snelling, 813.54 Sne. Something a little different, but of special interest to those who've ever been involved in showing and performing with horses. The author has gathered into one thick book the contents previously published in 5 separate volumes about a 14-year-old girl's dream of someday competing in equestrian events at the Olympics. As she trains and strives to learn all she can, her family pleads with her to pursue an art education in her considerable drawing and sketching skills. Taking part in many local horse competitions, her Olympic dream seems to be a possibility. But when she risks her life freeing horses from a burning stable, her hands are so terribly burned it is feared she may never again draw, or even hold reins. I found this to be an interesting portrayal of a family's involvement with their daughter in this activity. – Reviewed by Alice Hill. 
HOME BEYOND THE SUN – A FIGHT FOR FREEDODM, A SEARCH FOR TRUTH DVD ADULT HOM. An inspiring story of a young woman, Jenna travels to a foreign country where even possessing a Bible will bring a longer jail term than selling drugs. Brought there by the promise of a resume-building job Jenna is suddenly captivated by a young Chinese girl, Chui Lee.  
HOSTILE INTENT by Lynette Eason, 813.6 Eas. Bk 4 of the Danger Never Sleeps series. Taken from the back cover: "Ava Jackson entered the military shortly after high school, but her mother's illness forced her to request an early discharge. She already lost her father while deployed, and there's no way she's going to let her mother die alone. But after a visit to the nursing facility where her mother lives, Ava is attacked walking back to her car. Fortunately, FBI Special Agent Caden Denning arrives in time to help fight off her attacker…Caden reveals to Ava that she may hold the key to the murders of three families, and he needs her help before anyone else is harmed. The hits show a pattern, and clearly the killer has an agenda. But if Caden and Ava can't discover what it is, Ava may be next on the list." 
HOUSE OF LIVING STONES by Katie Schuermann, 813.6 Sch. Another of the delightful recent books added to our library. The trials and triumphs of a congregation from very young children to the saints going to be with their Savior. You'll laugh, you'll cry, you'll see some very hurting human dilemmas handled with not only the Law, but also with the Gospel's compassion and wisdom. Be sure and get all 3 books in the series, marked 1, 2 and 3 on the spine, including THE CHOIR IMMORTAL and THE HARVEST RAISE. Reviewed by Alice Hill.
HUNDRED CRICKETS SINGING, A by Cathy Gohlke, 813.6 Goh. "In wars eighty years apart, two young women living on the same Appalachian estate determine to aid soldiers dear to them and fight for justice."
I, SAUL by Jerry B. Jenkins with James S. MacDonald, 813.54 Jen. Taken from the back cover: "A young seminary professor, Augustine Knox, is drawn into a deadly race to save priceless parchments from antiquities thieves and discovers a two-thousand-year old connection with another who faced death for the sake of the truth. I, Saul consists of two riveting adventures in one, transporting you between the stories of Augustine Knox and Saul of Tarsus…Filled with political intrigue, romance, and rich historical detail, I, Saul is a thrilling tale of loyal friendships tested by life-or-death quests, set two millennia apart, told by a master storyteller."
I'LL WATCH THE MOON by Ann Tatlock , 813.54 Tat. It's a good family story with a section explaining the fear of polio in 1946 – 1950. (Activities such as movies, fairs and bathing beaches were closed in summer to keep people at home.) A man tells about his life and family in Germany and Poland during the Holocaust. Many were killed and imprisoned by the Gestapo in 1939 and 1940. Although some people doubt this, it really happened. Reviewed in the past by Virginia Ames.
IN EVERY PEW SITS A BROKEN HEART by Ruth Graham (daughter of Ruth and Billy Graham), 248.8 Gra. The broken heart in your pew may be the woman sitting next to you who struggles with breast cancer. It may be the middle-aged man at the far end whose alcoholism has torn his family apart. Behind every face is a story, and the story is not always pleasant. But God knows how to write our stories with redemptive ink, and He can heal our broken hearts. Ruth Graham has found through bitter personal experience that God does His great work in the ruins of our lives. 
INVISIBLE by Ginny L Yttrup, 813.6 Ytt. This is one of the new books in the library reviewed by Alice Hill. She says, "I just finished it and it is excellent!" New and fresh subject matter, informative, and educational – all woven into a very well-written novel. 
JADED, JUSTIFIED AND JILTED all by Varina Denman, 813.6 Den. The main characters change with the books as it all takes place in Trapp, Texas, a small town where everyone knows each other. These series books are fun to read when the ending leaves the reader hanging for the next book. Ruthie in the first book, Fawn, her childhood friend in the second, and Ruthie's mother in the third weave a nicely paced story with surprise endings.
JERUSALEM ASSASSIN, THE: A Marcus Ryker Series Political and Military Action Thriller (Book 3) by Joel Rosenberg, 813.6 Ros. An international political thriller that will keep you turning the page through the final chapter. Marcus Ryker is a CIA operative whose team is responsible for protecting the U.S. President, the Saudi Arabian Monarch, Prime Minister of Israel, and Palestinian Grand Mufti from terrorists dead set on preventing a peace agreement between these four principals. A novel that lives up to all expectations fans of Rosenberg have come to expect. – Reviewed by C. Hultman (Note: We also have THE KREMLIN CONSPIRACY, book 1, in our church library. Do readers want us to get book 2: THE PERSIAN GAMBLE? Let us know!) 
KEY TO EVERYTHING, THE by Valerie Fraser Luesse, 813.6 Lue. Taken from the back cover: "Peyton Cabot's fifteenth year will be a painful and transformative one. His father, the heroic but reluctant head of a moneyed Savannah family, has come home from World War II a troubled vet, drowning his demons in bourbon and distancing himself from his son. A tragic accident shows Peyton the depths of his parents' devotion to each other but interrupts his own budding romance with the girl of his dreams…Struggling to cope with a young life upended, Peyton makes a daring decision: He will retrace a journey his father took at fifteen, riding his bicycle from St. Augustine, Florida, all the way to Key West. Part declaration of independence, part search for self, Peyton's journey will bring him more than he ever could have imagined – namely, the key to his unknowable father, a longed-for reunion, and a calling that will shape the rest of his life." 
KINDNESS IS COURAGEOUS by Nicole J. Phillips, 808.8 Phi. "100 stories to remind you people are brave and kind." Excellent and uplifting – Janie. 
LEAVING NOVEMBER by Deborah Raney, 813.54 Ran. "Faith and love triumph in this small-town story of overcoming the past and finding hope for the future. LEAVING NOVEMBER gently plays the heartstrings and embraces the spirit in the name of love." 
LETHAL INTENT by Cara Putman, 813.6 Put. Taken from the book blurb: "A fascinating page-turner that isn't afraid to ask hard questions – the kind that keep you thinking long after you've read the last page. You'll root for Caroline and Brandon as they wrestle with hard decisions that test them and their relationship to the breaking point." 
LETTER KEEPER, THE by Charles Martin, 813.6 Mar. Book 2 – a Murphy Shepherd Novel. Taken from the back cover: "Murphy Shepherd has made a career of finding those no one else could – survivors of human trafficking His life's mission is helping others find freedom…When his new wife, her daughter, and two teen-age girls are stolen, Murphy is left questioning all he has thought to be true. With more dead ends than leads, he has no idea how to find his loved ones…Hope feels lost, but Murphy is willing to expend his last breath trying to bring them home." - (Please note that our library has Book 1 THE WATER KEEPER. If you've read both and liked them, please let us know as book 3 THE RECORD KEEPER comes out the summer of 2022.)
LIBRARIAN OF BOONE'S HOLLOW, THE by Kim Vogel Sawyer, 813.6 Saw. Taken from the back cover: "Addie has been forced to start a new chapter – one testing her grit and courage. Will she trust the One who truly pens her story? During the Great Depression, city-dweller Addie Cowherd dreams of becoming a novelist and offering readers the escape that books had given her during her tragic childhood. When her father loses his job, she is forced to take the only employment she can find – delivering books on horseback to impoverished coal-mining families in the hills of Kentucky…But turning a new page will be nearly impossible in Boone's Hollow, where residents are steeped in superstitions and deeply suspicious of outsiders. Even local Emmett Tharp, the first in his family to graduate college, feels the sting of rejection after returning to the tiny mountain hamlet. And as the crippled economy leaves many men jobless, he fears his degree won't be worth much in a place where most men either work the coal mine or run moonshine…As Addie also struggles to find her place, she'll unearth the truth about a decades-old rivalry. When someone sets out to sabotage the town's library program, will the culprit chase Addie away – or straight into the arms of the only person who can help her put a broken community back together?"
LIGHT IN THE DARK BELT – The Story of Rosa Young as told by herself 92 You. "Known as the "mother of Black Lutheranism in central Alabama" and a strong advocate of education for rural children, Rosa Young (1890-1971) was instrumental in founding and promoting the development of Lutheran schools and congregations in Alabama's Black Belt. First published in 1930, Rosa Young's autobiography is a story of faith, courage, labor, and perseverance. Concordia Publishing House is pleased to present this special edition in connection with the film documentary The First Rosa, with the prayer that a new generation may be inspired by her ministry." 
LIVING LIES by Natalie Walters, 813.6 Wal, book 1 of Harbored Secrets series "is a nail-biter that will make you play hooky from your day job, feed your children cereal for supper, and not stop reading until the last page. Natalie Walters' debut novel is intriguing and enticing." "This book also talks about two serious issues - depression and PTSD. The heroine deals with depression and the stamina that goes with it and there are others in the story that deal with PTSD. Both issues are handled well by the author. The author brings to light these two illnesses and how they affect everyone involved. She also touched on how people with these illnesses can be treated badly and how we need to have compassion for people with these illnesses. I really like reading it. I like the mystery theme of the story. I recommend this one. This is a clean, Christian read." 
LONG TIME COMIN', A by Robin W. Pearson found under 813.6 Pea. The following is copied from an on-line review:  "There are so many things that can happen to a person, things that other people can't understand - even the person involved sometimes doesn't understand." And the one person who has the ability to explain it all is nearing the end of explanations. When Evelyn Lester arrives at her grandmother's little house, she is unprepared for the stream of unfettered words that the crotchety old woman spews out of her mouth. Granny B isn't exactly mean, but she can seem that way to those who don't really know her; she knows a lot more about life and death than most people, but she sure doesn't crave any sympathy; she has lived a lifetime of ups and downs, but is finally ready to admit…..that grace took a "long time comin'". What a lovely journey along the raw edges of a family, where pain always hovered just beneath the surface, and secrets lived and breathed much longer than the truth. What matters most is that in the end, a mother's sacrifice and determination to give her children what they needed the most, gifted them with a legacy that they are finally able to recognize and understand."
LONG WALK TO WATER, A by Linda Sue Park, FIC Par. The author based this short story largely on the childhood experiences of Salva Dut, who was born in Sudan. He now makes his U.S. home in Rochester, New York, where Ms. Park also lives. He was born in a small village in southern Sudan and he stayed in refugee camps in Ethiopia and Kenya for many years before he came to America. 
LONG WAY HOME by Lynn Austin, 813.54 Aus. Taken from the back cover: "A young woman searches for the truth her childhood friend won't discuss after returning from World War II, revealing a gripping story of courage, friendship, and faith." "A must-read for fans of WWII inspirationals."
 
MAMA BEAR APOLOGETICS – EMPOWERING YOUR KIDS TO CHALLENGE CULTURAL LIES by Hillary Morgan Ferrer, at 249 Fer. "The problem with lies is they often don't sound like lies. They seem harmless, and even sound right. So what's a Mama Bear to do when her kids seem to be absorbing the culture's lies uncritically?" "…is the book you've been looking for. This mom-to-mom guide will equip you to teach your kids how to form their own biblical beliefs about what is true and what is false. Through transparent life stories and clear, practical applications – including prayer strategies – this band of Mama Bears offers you tools to train yourself so you can turn around and train your kids."
MANGA MESSIAH The greatest story ever told, about the most controversial man who ever lived, presented in the most popular graphic novel format on earth." This book can be found in the youth section. 
MANY SPARROWS by Lori Benton, 813.6 Ben. The following summary is taken from Goodreads: "Either she and her children would emerge from that wilderness together, or none of them would… In 1774, the Ohio-Kentucky frontier pulses with rising tension and brutal conflicts as Colonists push westward and encroach upon Native American territories. The young Inglesby family is making the perilous journey west when an accident sends Philip back to Redstone Fort for help, forcing him to leave his pregnant wife Clare and their four-year old son Jacob on a remote mountain trail. When Philip does not return and Jacob disappears from the wagon under the cover of darkness, Clare awakens the next morning to find herself utterly alone, in labor and wondering how she can to recover her son...especially when her second child is moments away from being born. Clare will face the greatest fight of her life, as she struggles to reclaim her son from the Shawnee Indians now holding him captive. But with the battle lines sharply drawn, Jacob's life might not be the only one at stake. When frontiersman Jeremiah Ring comes to her aid, can the stranger convince Clare that recovering her son will require the very thing her anguished heart is unwilling to do – be still, wait and let God fight this battle for them?" This riveting story kept me reading on about the ferocity of a mother's love and the beauty and complexity of Shawnee culture and community. However, I must admit that at times I was really annoyed with Clare's pigheadedness! – Reviewed by Janie Carlson.  
MEDALS IN THE ATTIC by Cathy Elliott, 813.6 Ell. "Join Annie Dawson and the members of the Hook and Needle Club of Stony Point, Maine, as they track down mysteries connected with the contents found in the attic of Annie's ancestral home, Grey Gables…Let the good people of Stony Point into your heart, and the mysteries of Annie's Attic will keep you on the edge of your seat!"
 MESSAGE OF THE BIRDS, THE by Kate Westerlund, illustrations by Feridun Oral, at JUV Wes. Taken from the book flap: "Long ago a special child was born, and animals everywhere heard in his coos a song of blessing and good will for all the creatures of the earth. But now the birds wonder why no one sings the song anymore. The old owl tells them, "People don't listen. Some think the message is for others and not for them." The other birds determined to bring the message to those they know will listen and understand – the children. And so they fly far and wide, each singing the song of joy and peace, passing it on from bird to bird, and from child to child everywhere." The author and illustrator "have created a beautifully poetic story about the powerful role we all have to play in hearing the timeless message: "Let there be peace. Peace on Earth." 
MIDNIGHT ON THE MISSISSIPPI, WHAT HAPPENED ON BEALE STREET, MAGNOLIA MOONLIGHT, and SUNSET IN OLD SAVANNAH are 4 in the series called Secrets of the South Mysteries. All the books are dealing with stories of private investigators helping the police catch the criminal. The author is Mary Ellis and the books are found at 813.6. It has been fun seeing the same characters pop up in each book like old friends. I had hesitations about reading beyond the first book but I was glad I did; each one became a page turner in suspense. Reviewed by Darlene Baltus.
MIRACLE AT THE HIGHER GROUNDS CAFÉ by Max Lucado, 813.54 Luc. "Step inside the Higher Grounds Café, a place brimming with hope, a heaping helping of comfort food, and a direct line to heaven. Where faith lives, all things are possible, for a family, a community, and one woman who wasn't sure she had the courage to believe again." – Lisa Wingate, bestselling author. 
MIRIAM'S SONG by Jill Eileen Smith, 813.6 Smi. Taken from the back cover: "She has prayed for deliverance from Egypt. But perhaps the greatest liberation happens within the heart…From the very beginning, Miriam has lived in her younger brother's shadow. Thrust into the role of protective older sister before Moses was even born, she will grow into a woman who not only keeps her family's secret but bears the burden of leading a new nation…In her mind, she knows that she is serving both her God and her people. But in her heart, Miriam yearns for more. She longs to experience the privilege Moses has – to talk with God face-to-face. But when God finally does speak directly to her, the outcome is not at all what she expects…With her impeccable research and keen eye for detail, bestselling author Jill Eileen Smith offers this epic novel to fill in the gaps in Miriam's story, following her from childhood to motherhood, obscurity to notoriety, and yearning to fulfillment as she learns that what God promises He provides – in His own perfect timing."
MISSING ISAAC by Valerie Fraser Luesse, 813.6 Lue. "When Pete McLean loses his father in the summer of 1962, his friend Isaac is one of the very few people he can lean on. Though their worlds are as different as black and white, friendship knows no color. So when Isaac suddenly goes missing, Pete is determined to find out what happened – no matter what it costs him. His quest will lead him into parts of town that he knows only through rumors and introduce him to a girl who will change his life. What they discover together will change the small Southern town of Glory, Alabama – forever." "MISSING ISAAC will break – and then heal – your heart." 
MONEY MATTERS – Answers to Your Financial Questions by Larry Burkett, 332.024 Bur. Taken from the back cover: "Larry's uniquely personal teaching style and passion for Christ brings hope to those in financial crisis and guidance to those who want to glorify God with spiritually and financially responsible lives."  
MOONLIGHT SCHOOL, THE by Suzanne Woods Fisher, 813.6 Fis. Taken from the back cover: "…Born in those very hills, Cora knows the twin plagues of illiteracy and poverty. So does Brother Wyatt, a singing school master who travels through the hills. Involving Lucy and Wyatt, Cora hatches a plan to open the schoolhouses to adults on moonlit nights. The best way to combat poverty, she believes, is to eliminate illiteracy. But will the people come?...Inspired by true events, this novel by bestselling author Suzanne Woods Fisher brings to life the story that shocked the nation into taking adult literacy seriously."  
MORE THAN WE REMEMBER by Christina Nelson, 813.6 Nel. The horrible 3-vehicle crash with fatality, the popular high school coach whose car was over the centerline, the smell of alcohol, the tough woman deputy's special need to see the coach found guilty, the surprise ending this reader didn't see coming… This book, only months on our shelf, has a refreshingly different, multi-faceted plot. Reviewed by Alice Hill. 
MOST LOVING PLACE IN TOWN: A MODERN DAY PARABLE FOR THE CHURCH, THE by Ken Blanchard and Phil Hodges, 253 Bla. "How many churches have you entered as a stranger and unmistakably felt loved? Sadly, it's not uncommon for churches to focus on such things as appearance, doctrinal purity, and activities, yet neglect the most important characteristic Jesus exemplified and taught his followers: love…In the story, a church leader and his pastor independently become aware of the missing element of love in their church, and together they endeavor to reform leaders and laity into a truly loving community." 
MOTHER'S PROMISE, THE by Sally Hepworth, 813.54 Hep. From the inner cover blurb: "All their lives, Alice Stanhope and her daughter, Zoe, have been a family of two, living quietly in Northern California. Zoe has always struggled with crippling social anxiety and her mother has been her constant and fierce protector. With Zoe's father shrouded in mystery, their team of two works – until it doesn't. Until Alice gets sick and needs to fight for her life…Desperate to find stability for Zoe, Alice reaches out to two women who are practically strangers but who are her only hope: Kate, a nurse, and Sonja, a social worker. As the four of them come together, a chain of events is set into motion and all four of them must confront their darkest fears and secrets – secrets about abandonment, abuse, estrangement, and the deepest longing for family…Imbued with heart and humor in even the most dismal moments, this is an unforgettable novel about the unbreakable bonds between mothers and daughters and the new ways in which families are forged." This novel grabbed me and never let me go even as twists near the end had me yelling out in dismay – sorry Doug! And be sure to keep the tissues near at hand. – Janie Carlson 
MOUNTAINTOP DRIVE by James R. Coggins, 813.6 is Book 3 of a John Smyth Mystery. None of our First readers had read it since we received it in 2018, so I took it home to see if we should look into getting Books 1 & 2. Online reviews were: "An intriguing and highly readable mystery with plot turns and enough suspects to keep the reader guessing until the end." "A slick, crisp read. It has just about everything. Mystery, suspense, action, twists in plot and a lot of extras you won't find in too many mysteries these days – morality, spirituality, and theology. Mountaintop Drive is a page turner but it's far more than a weekend's entertainment. It will take you places you never expected to go. A good ride." I enjoyed this book and can recommend it. However, I went onto GoodReads to get plot lines and reviews of the first two books in the series and nothing about either of them grabbed my attention. So for now we're holding off on ordering them until someone lets us know otherwise! – Janie Carlson. 
MY BOY BEN - A STORY OF LOVE, LOSS AND GRACE by David Wheaton, 813.54 Whi. Though this is a true story of the warm bond between tennis star David Wheaton and an exceptional yellow lab named Ben, it is much more. When David's joy in Ben is cut short, his grief is overwhelming. But David, a committed Christian, finds healing and new meaning in these words of 1 Peter 5:10-11: "May the God of all grace who called us to his eternal glory by Jesus Christ, after you have suffered a while, make perfect, establish, strengthen and settle you." – Reviewed by Alice Hill.  
MY PRINCE WILL COME – GETTING READY FOR MY LORD'S RETURN by Sheri Rose Shepherd, 236.9 She (found on the small book shelf). "Sheri Rose Shepherd reminds us that pride, guilt, procrastination, greed, and other sins of the flesh keep us from living out our purpose – but true crowning moments occur when we fix our eyes on eternity. Her message will challenge readers to prepare to meet the Prince of Peace by focusing on the things that matter most." – James and Betty Robison, Life Outreach International, Fort Worth, Texas. 
NEW TOLERANCE, THE by Josh McDowell and Bob Hostetler found at 261.21 McD.  A comment from the back of the book states: "THE NEW TOLERANCE offers a thoroughly biblical message of love and hope in the face of a culture increasingly bent on sabotaging the foundations of your faith and that of your children."  Josh McDowell also wrote MORE THAN A CARPENTER, FIC McD.
NIGHT BIRD CALLING by Cathy Gohlke, 813.6 Goh. Taken from the back cover: "Appalachia, 1941. When Lilliana Swope's beloved mother dies, Lilliana gathers her last ounce of courage and flees her abusive husband for the home of her only living relative in the foothills of No Creek, North Carolina. Though Hyacinth Belvidere hasn't seen Lilliana since she was five, she offers her cherished great-niece a safe harbor. Their joyful reunion inspires plans to revive Aunt Hyacinth's estate and open a public library where everyone is welcome, no matter the color of their skin…Slowly Lilliana finds revival and friendship in No Creek – with precocious eleven-year-old Celia Percy, with kindhearted Reverend Jesse Willard, and with Ruby Lynne Wishon, a young woman whose secrets could destroy both them and the town. But when their plans for the library also incite the wrath of the Klan, the dangers of Lilliana's past and present threaten to topple her before she's learned to stand… With war brewing for the nation and for her newfound community, Lilliana must overcome a hard truth voiced by her young friend Celia: Wishing comes easy: Change don't." – This book was hard to put down and I recommend it to anyone who is ready for a rollercoaster ride of emotions: laughter and tears, anger at the villains and rejoicing because of the bravery of the characters. – Reviewed by Janie Carlson. 
NINE LIVES TO ETERNITY by Scott D. Gottschalk, 92 Got. This book is a true story of repeatedly cheating death; an inspirational and faith-driven human triumph, and has truly made an impact on readers around the world. This life-affirming book outlines each of the author's twenty-seven brushes with death. Scott believes in guardian angels, because he's personally been touched by angels. He was raised on a livestock and cropping farm in southeastern Minnesota near the small village of Byron. He and his wife now live in central Minnesota near the small village of Kimball. "From the very day of my most recent encounter with death, I've concluded that God's plan for me is somehow not yet finished. I passionately believe that the Lord has a mission for me, and until my job on earth is finished, I will not be called to my heavenly Creator no matter how dangerous my situation or how severe my injuries may be. For this reason, I'm completely convinced that my Lord and Savior has blessed me with a message that needs to be shared through the words of this book," Gottschalk shares. "Hopefully, the messages about my own personal witness to our Lord may in fact make an impact in your own life." 
NO DISTANCE TOO FAR, a Home to Blessing Book 2, by Lauraine Snelling, 813.54 Sne. "Astrid Bjorklund wants to use her medical training to serve God and feels that He might be leading her in the direction of missionary service. Smarting from a misunderstanding with Joshua Landsverk, the young man she thought she loved, she heads south to a missionary training school, hoping to eventually use her skills in some remote outpost in Africa…When she is called home to help in a family medical crisis, a door of opportunity opens for her unexpectedly. Perhaps the "mission field" God intends for her is not exactly what she imagined…If she follows God's call, will love pass her by?" I see that many of our readers have read book 1: A MEASURE OF MERCY and I'm pretty sure they'll want to read this one too! – Janie Carlson
NO HORIZON IS SO FAR – Two women and their extraordinary JOURNEY ACROSS ANTARCTICA by Liv Arnesen & Ann Bancroft, 92 Arn. Taken from the back cover: "Ann and Liv's historic polar expedition is an awesome accomplishment, but as this book shows, their work as teachers has also had profound impact: they inspire young boys and girls alike to follow their dreams." – Will Steger, world-renowned polar explorer and best-selling author of North to the Pole.  
NOAH BUILT HIS ARK IN THE SUNSHINE by James Moore, 248.421 Moo. This title jumped out at me in the library after having just returned from the Ark Encounter. On the back cover it indicates that Noah "prepared in advance for the storm that was to come. He didn't wait until the last minute. He used those bright days in the sunshine to get himself ready, to build up resources he would need when the dark floodwaters came." The book includes a study guide that can be used at home or with a group. There are 15 chapters that cover the things we need to build our own ark in the sunshine so that we're ready when troubles come. Perhaps there are members who would like to get their own copy of the book and meet to discuss it together? – Janie Carlson.
NOT FORSAKEN by Louie Giglio, 231.1 Gig. "Pastor Louie Giglio invites us to understand the character of God in a life-changing way: as a perfect Father who wants you to live under the waterfall of His blessing. You see, God is not the bigger version of your earthly dad, He is the perfect version of your earthly dad. And He's inviting you to walk in freedom as His loved son or daughter."  
NOWHERE BUT UP by Pattie Mallette with A. J. Gregory, FIC Mal. Justin Bieber is a well-known name but did you wonder about his life BEFORE he became a household name? Pattie tells us about her life growing up, young adulthood and being a mother to Justin. Her comment on the back of the book reads "It doesn't matter where you find yourself today – how broken, hurting, wounded, or ashamed you are. If God can help me find my way up, I promise, He can do the same for you." A book worth reading! – Reviewed by Darlene Baltus.
OF STILLNESS AND STORM by Michele Phoenix, 813.6 Pho. Taken from the back cover: "It took Lauren and her husband ten years to achieve their dream – reaching primitive tribes in remote regions of Nepal. But while Sam treks into the Himalayas for weeks at a time, finding passion and purpose in his work among the needy, Lauren and Ryan stay behind, their daily reality more taxing then inspiring. For them, what started as a calling begins to feel like the family's undoing." – Just a comment about the book is that the author's note at the end confirms that she did an excellent job of knowledgeably portraying the delicate subject of some committed but over-zealous missionaries leaving their own families broken and wounded emotionally in the process. – Alice Hill.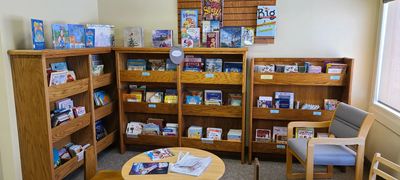 OFFERING, THE by Angela Hunt, 813.54 Hunt. This novel is an eye-opener and a tearjerker. Readers will find themselves feeling the pain of the characters and getting caught up in their lives. Amanda Lisandra is the wife of a soldier. She and her family are struggling to make ends meet, so she decides to become a gestational surrogate for a family in need. The battles will test her faith in God, her femininity, ethnicity, and citizenship. Hunt gives her readers a glimpse inside the life of a Cuban-American family dealing with financial struggles and grief, while facing decisions about how to survive while also being faithful to God. Reviewed by Darlene Baltus.  
ONE BLOOD – THE BIBLICAL ANSWER TO RACISM by Ken Ham, 261.8 Ham. Taken from the back cover: "More than half a century has passed since the horrors of the Nazi racial extermination camps were revealed to a disbelieving world. Yet the battle of ethnic hate and violence remains one of the burning issues of our time…But what does "race" really mean? Are there really multiple races of humans, and where did this concept originate? The Bible says in Acts 17:26 that God has 'made of one blood all nations of men for to dwell on all the face of the earth.' So, is there really such a thing as the "white race", or "black race"? …For a real solution to ethnic hatred, read this copy of ONE BLOOD. You'll see this explosive debate in a whole new, startling light." – Most of what is covered in this book was on display at the Creation Museum in Kentucky. – Janie Carlson.  
ONE LANE BRIDGE by Don Reid (of the Statler Brothers), 813.6 Rei. Taken from the back cover: "The Lord works in mysterious ways…Between trying to run two restaurants, keep his daughter from dropping out of college, and satisfy his lonely, aging mother, J. D. could use a rest. One tranquil evening, he takes off on a ride in the country to clear his mind. Top down, setting sun, wind in his hair…leak in the radiator. Walking up to an old farmhouse to ask for water, J. D. finds a family living in poverty, and he vows to help....But he discovers that nothing about the family – and the one lane bridge that led him there – is as it seems. The more he pursues answers, the less he understands. His wife and best friend think he's crazy. But solving the mystery will change him forever…" – This book absolutely grabbed me from the first page. By the end J. D. had everything figured out – "We're all connected in God's universe, even across generations. And we're all in need of one another." I recommend reading this book. – Reviewed by Janie Carlson.  
ONE LITTLE LIE by Colleen Coble, 813.54 Cob. This is book 1 of the Pelican Harbor series. "It started with one little lie. But Jane Hardy will do everything in her power to uncover the truth in this gripping new romantic suspense." To be continued in TWO REASONS TO RUN, coming out in print September 2020. Let your church librarians know if you'd like to continue this series! - Janie. 
ONE MINUTE AFTER YOU DIE – A PREVIEW OF YOUR FINAL DESTINATION by Erwin W. Lutzer, 236.2 Lut. "One minute after you slip behind the parted curtain, you will either be enjoying a personal welcome from Christ or catching your first glimpse of gloom as you have never known it. Either way, your future will be irrevocably fixed and eternally unchangeable." "Lutzer marvels that many people spend more time planning a trip to Europe than they do preparing for their eternal home…he urges us to study what the Bible has to say so we might comfort believers and warn unbelievers about the eternity that awaits them."  
OUT OF THE SHADOWS by J. Thomas Lapacka, 92 Lap is a biography and an inspiring life story of a man's walk of faith. A complex story, it reads like a novel although you know the end of his story before you begin. It is "how" he is transformed that holds you spellbound. In it, I learned one thing very important. We must devote more time to the religious training of our impressionable children. This intelligent young man was led to accept cultish leanings that could have wasted his very life if God had not chosen him and saved him! It truly has a happy ending. This book has been reviewed by a reader in the past. 
OUTREACH PROMISES – God's Encouragement for Sharing Your Faith at 269.2 Bic. "Outreach promises are Bible verses in which God assures you His mission is possible and you can make a difference. Outreach promises help you to take action, trusting in God's ability to use you to reach people for Christ." 
OVERCOMER  by Chris Fabry, 813.54 Fab. When I first started this book about a high school basketball coach (it was "their year" to win State) who was forced by budget cuts to become instead the cross-country running coach, I thought it wouldn't be interesting enough to even keep on reading. But as the plot progressed, an amazing story of God's love and grace and healed family relationships developed. It gives a detailed look at the strategy involved in becoming a winner even while battling a personal disability. A very worthwhile read. Reviewed by Alice Hill. (Please note that we also have the DVD of OVERCOMER.)  
OVER WHAT HILL? by Effie Leland Wilder at 813.54 Wil. A short novel (183 pages) about life in a retirement home. Stories about romance, writing careers at age 86, and different generations all done up in good humor and strong faith. The writer had lived in the Presbyterian Home of Summerville, South Carolina so many of her stories may have come from real life. A fun book to read. Reviewed by Darlene Baltus.  
PASSING STRANGERS by Angela Hunt, 813.54 Hun. They were strangers to each other all running away from something. For instance: a young woman wanting to completely separate herself from her former public life, a recently widowed lawyer trying to juggle an impossible workload and care for children aged 4 and 6, and a 50 year old married woman breaking under an increasingly hostile and threatening situation at home. What will happen when a coincidence throws them all together? And is it really a coincidence??? Reviewed by Alice Hill. 
PRAYER - THE ULTIMATE CONVERSATION at 243.32 Sta. "No matter what confounding questions, perplexing circumstances, or seemingly insurmountable dilemmas you are facing today, the solution to them is absolutely obvious to God – and He longs to share His answers with you. Draw closer to the Father. Get to know God by engaging with Him in Prayer, The Ultimate Conversation." 
PROMISE KEPT, A  by Robin Lee Hatcher, 813.54 Hat. Allison felt sure that God's answer was yes – that He promised to heal and save her marriage to Tony. But as things got worse and Tony finally left and a divorce followed, she knew she had misunderstood what God had told her. She never could have guessed what God's answer really was. The author adds some surprising facts at the end of the book.  Reviewed by Alice Hill. 
PROMISED LAND by Robert Whitlow, 813.54 Whi. "Bestselling author Robert Whitlow explores the meaning of family and home – and how faith forms the identity of both – in this breathtaking sequel to CHOSEN PEOPLE."   
PROMISES TO KEEP by Ann Tatlock, 813.54 Tat. This is a trip back in time to a place of innocence and war, love and the delusion of love, childhood friendships and pinky-promises.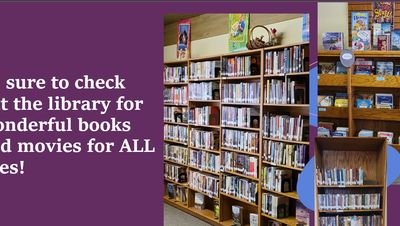 READER'S DIGEST THE BIBLE THROUGH THE AGES 220.9 Bib. This is a great book for the pictures and charts, and maps of the places mentioned in the Bible. I was interested because it breaks the construction of the Bible down to the Oral Tradition, the Written Word, Words of a New Faith, Copying the Word and the Printed Word (see back of book), but it was so much more. Truly appreciated having it in our library. – Reviewed by Darlene Baltus. 
REASON TO BREATHE by Deborah Raney, 813.54 Ran, Book 1. Our library already has Books 2 & 3 of the Chandler Sisters series. Book 1 introduces us to the Chandler sisters just after they'd put their lives on hold to care for their dying mother. After her passing the three sisters choose to buy property together with their shared inheritance from their mother. (Now I have to say that any novel which includes house rehab grabs my attention and this did not disappoint!) Watching how God works in the character's lives is a testament to His love and concern for us even when we're not looking for it. – Reviewed by Janie Carlson. 
RELATIONSHIP PRINCIPLES OF JESUS, THE by Tom Holladay, 232.9 Hol. "What would you give to radically improve, even transform, what matters most in your relationships? How about forty days of your time? In forty days, bring new depth and health to your marriage, your family, and your friendships. In six weeks, you'll explore and implement six foundational principles that Jesus taught and lived. You'll be equipped with insights and a practical path for fulfilling God's intention for all your relationships – even the difficult ones." 
REMEMBER TO FORGET by Deborah Raney, 813.54 Ran, Bk 1 of a Clayburn novel. Our library has bk 2 Leaving November which could be considered a standalone book and bk 3 Yesterday's Embers. Taken from the back cover: "One morning changed everything about her life. But could it also set her free? Graphic designer Maggie Anderson has lived under her boyfriend's tyranny for nearly two years…until she's carjacked in New York. Will this terrifying experience be the end for Maggie – or the beginning of a freedom greater than she dares imagine? To gain that freedom, she'll have to remember to forget everything about her old life…"
REVIVAL: SHELTER BOOK 3 by Robin Merrill, FIC Mer. Taken from the back cover: "The long-awaited final book in the Shelter Trilogy. A cop killer hiding out in the church. A girl with a terrifying secret. Unpaid bills. Empty cupboards. A pastor so tired, he might not survive the day…Is God still listening?...Has Open Door Church run its course?...Or does God have more in store?...When circumstances force Galen to slow down, he hears something new. And he can hardly believe what God has to say…Yes, God is listening. Get your Revival today!" 
RHINESTONE JESUS by Kristen Welch, 248.8 Wel. What held my interest was the easy, informative writing style that Kristen displayed. Two people meeting at Bible college preparing for full time ministry, one as pastor and the other as youth director; yet God has a different road for them in a series of circumstances that take a 180 from their plans. It involves a trip to Kenya, Africa. Read it to be inspired...and have tissues handy. Reviewed by Darlene Baltus.
RICH IN LOVE - WHEN GOD RESCUES MESSY PEOPLE by Irene Garcia, 248.84 Gar. "Over the past forty-five years the Garcias have birthed, fostered, or adopted thirty-two children. Their story holds difficult endings as well as promising new beginnings. Above all, it reminds us what can happen when ordinary people submit to God's call. This is a book about a family cemented in hope. About a need to love the orphan. And about a God who never, ever gives up."
RIVEN by Jerry Jenkins, 813.54 Jen. If you will pardon a pun, RIVEN will keep you "riven to your seat". This book tells the story of two people who are very different – a young man who continually is on a downward spiral, and a pastor, who feels defeated in his ministry. As their lives intersect through a prison ministry, you will find yourself finding it difficult to put this book down. Chuck Colson has quoted about this book that it was "a deeply personal reminder of why God called me to prison ministry so many years ago." Dwight, you were right! I would have to put this novel on my list of "favorites". Reviewed by Sue Zeige.
ROLLING IN THE CHURCH AISLES by Rebecca Christian, 248.8 Chr. When there's something funny going on in church, it's a good thing! Laughter and joy can be found anywhere you worship: in church bulletins, sermons, Sunday school lessons, even in the parking lot or the Fellowship Hall after services. A spiritual smile spreads happy faith far beyond the doors of the church. So laugh you way through the day with some holy humor. One of the jokes: "The blessing of the pets will be followed by a hot dog lunch."
SCARLET CORD, THE by Lindsay Hardin Freeman, 220.9 Fre. This book tells the story of biblical women in a new way, drawing the reader further down her spiritual path and closer to Christ. For too long, women in the Bible have been demonized, sanctified or simply misunderstood. Here, through storytelling and artwork, twelve compelling women of the Bible invite readers to step further into the sacred circle of God's people. By taking this step, the reader will discover that challenges experienced by biblical women are not so different from her own. This summary comes from the book itself.
SECRETS OF THE SOUTH MYSTERIES SERIES: MIDNIGHT ON THE MISSISSIPPI, WHAT HAPPENED ON BEALE STREET, MAGNOLIA MOONLIGHT, and SUNSET IN OLD SAVANNAH are 4 in the series called Secrets of the South Mysteries. All the books are dealing with stories of private investigators helping the police catch the criminal. The author is Mary Ellis and the books are found at 813.6 Ell. It has been fun seeing the same characters pop up in each book like old friends. I had hesitations about reading beyond the first book but I was glad I did; each one became a page turner in suspense. Reviewed by Darlene Baltus.
SEEK ME WITH ALL YOUR HEART by Beth Wiseman, 813.54.  Alice Hill says this is an excellent book. Check it out!
SHADES OF LIGHT by Sharon Garlough Brown, 813.6 Bro, is a poignant and engrossing look at the reality of psychological struggles even among people of faith. This book follows the impact of depression and anxiety on 22-year-old Wren Crawford and also on those who love her. While seeking professional and spiritual help she searched scriptures to better know the Man of Sorrows himself, Jesus. She also finds many parallels between her spiritual anguish and that of famed artist Vincent Van Gogh as she studies both his paintings and writings.  There is a good list of mental health resources at the back of the book. I found much good content in this book, which is filed with the newer books. – Reviewed by Alice Hill and also heartedly endorsed by Janie Carlson.  
SHADOWS OF HOPE by Georgiana Daniels, 813.6 Dan. "What if…you struggled with infertility but unknowingly befriended your husband's pregnant mistress? What if…the woman you were seeing behind your wife's back gets pregnant, threatening your job and marriage? What if…your boyfriend never told you he was married and you discover you're pregnant?" "When their lives collide, the two women must face the ultimate test of their faith and choose how to move forward as they live in the shadows of hope." 
SHELTER BOOK 1 by Robin Merrill, FIC Mer. "She begged God to rescue her. He said, "Go." So she headed out into a blizzard. In a car that wasn't exactly hers, with a dog who wasn't exactly a rat terrier, she drove. Until she ran out of gas in the small Maine town of Mattawooptock. Mattawoopwhat? What on earth is God thinking? But it is there, in a weird little bathroom in a weird little church in a weird little town that Maggie Hansen finds herself. And as God would have it, she finds a lot more than that."  – Our church library also has Bks 2 and 3 of the Shelter Trilogy and you're encouraged to check out all three at once and read them in order. You won't be disappointed! - Janie Carlson. 
SHOUTING AT THE RAIN by Lynda Mullaly Hunt, JUV HUN. Taken from the back cover: "A tender, compelling story about learning to feel complete, figuring out who deserves your love – and making sure those are the folks you give your heart to."… "A richly embroidered cast of characters, a thoughtful exploration of how real friends treat one another, and the true meaning of family all combine to make this a thoroughly satisfying coming-of-age tale." "A realistic sketch of small-town life and the agonies of growing up in an imperfect family… Timeless and relatable." – This book is for ages 10 and up and up means adults! It would be a great read aloud book with your middle schooler too. I'll be looking for more books by this author. Janie Carlson 
SILENT SHADOWS by Natalie Walters, 813.6 Wal, book 3. "Silent Shadows is the third and final book in the Harbored Secrets series. After reading the book, I no longer know which of the three my favorite is, instead I might have to say that reading them as one continuous story would be my favorite. Though each book can be read and enjoyed separately I would recommend reading them all and in order. I find that each one is good but it is even better if you read them all and in order. So in the final book you have two new main characters. Only one of these main characters has been introduced previously, Pecca. The new main character we are introduced to is Colton. Colton is struggling like a lot of us with what happens when what you planned for is disrupted by something unexpected. He is having trouble remembering and accepting that sometimes our plans aren't what God has for us and what God has for us is better than anything we could come up with. These struggles are effecting his relationships with the people around him. As for Pecca, she is dealing with something that she thinks has to do with her past. But what she doesn't know is that it has do with something else completely. If you want to know more, then you'll have to get the book and read it for yourself. You won't regret it."  
SING A NEW SONG by Sunnie Jeffers, 813.6 Jef. This is one of a series of tales from Grace Chapel Inn for those who like series books. The sisters, Louise, Alice and Jane who run a B& B each have unique talents and activities. Louise takes in a music camp with her daughter, Cynthia. Alice reaches out to youth with church activities develops a unique scrapbook at a special weekend. Jane serves guests with her food and quiet support. You'll like learning about the sisters and their dependence on the Lord for their faith and rewarding lives. Look for all of the Grace Chapel Inn books placed together on the shelf.
SINGLE MOMS RAISING SONS by Dana S. Chisholm, 248.8 Chi. "Preparing boys to be men when there's no man around." "Dana S. Chisholm writes from her experience as the single mother of two boys. From financial concerns to teaching a boy to be macho, she knows what it's like to try to see life through a boy's eyes. She understands your struggle and shares ways you can support and help your son – even when his dad lets him down again and again. If you're a woman raising a boy on your own, this book will give you the honest insight, advice, and guidance you need to raise your son to be the solid Christian man you want him to be." 
SKY WITHOUT STARS, A by Linda S. Clare, 813.6 Cla. The following is copied from an on-line review: "Frankie Chasing Bear is caught between cultures. She wants to raise her son Harold to revere his Lakota heritage, but she also thinks he will need to learn the white man's ways to succeed. After the untimely death of her husband, Frankie joins the U.S. Government's Relocation Program and moves to Arizona. There she begins sewing a Lakota Star pattern quilt for Harold with tribal wisdom sung, sewn, and prayed into it...A bed without a quilt is like a sky without stars, but neither the quilt--nor her new life--comes easily to Frankie. Nick Vandergriff, for instance, is the last man Frankie wants to trust. He's half-Lakota but Christian, and Frankie can see no good coming from that faith after her own parents were forced to convert at an Indian school. Can Nick convince Frankie that white men and Christians aren't all bad? And will Frankie learn that love is the most important ingredient--for her son's quilt and life itself?"
 SLAY YOUR DRAGONS by Nell Mohney, at 298.4 Moh. This is a must read for everyone! The author covers the giants we all face, have faced or will face – the giants of grief, depression, procrastination, stress, perfectionism, anger, resentment, jealousy, lust and loneliness. The book begins with David's victory over Goliath. As David's greatest weapon was an unswerving trust in God, the author tells us, when we accept Christ's twin gifts of salvation and eternal life, we are empowered by the Holy Spirit and gain the spiritual equipment we need to fight any giant and win! – Reviewed by Mary Buech.
SOUND AMONG THE TREES, A by Susan Meissner found at 813.6 Mei.  This is taken from the back of the book:  A house shrouded in time. A line of women with a heritage of loss.  As a young bride, Susannah Page was rumored to be a Civil War spy for the North, a traitor to her Virginian roots.  Her great-granddaughter Adelaide, the current matriarch of Holly Oak, doesn't believe that Susannah's ghost haunts the antebellum mansion looking for a pardon, but rather that the house itself bears a grudge toward its tragic past.  
STARFISH PIER by Irene Hannon, 813.54 Han. This is book 6 of the Hope Harbor Novels. "A year ago, ex-Delta Force operator Steven Roark left the rigors of combat behind to run fishing charters in Hope Harbor, decompress, and talk some sense into his kid brother. Business is good – but making peace with his past is more challenging than he expected…First-grade teacher Holly Miller leads a low-profile existence – until she's recruited to advocate for a cause that's dear to her heart. When she solicits Steven's assistance, sparks fly – especially after they find themselves on opposite sides of an issue that disrupts their placid seaside community…As these two seemingly incompatible souls wrestle with their differences, might they discover more common ground than they expect – and a future filled with promise?" Readers will be happy to know we have books 1 – 5: HOPE HARBOR, SEA ROSE LANE, SANDPIPER COVE, PELICAN POINT, and DRIFTWOOD BAY. 
STATE OF LIES by Siri Mitchell, 813.6 Mit. "In STATE OF LIES, Siri Mitchell has penned a page turner that I literally couldn't put down. I confess I kept reading when I should've been writing my own novel. My heart breaks with Georgia Brennan as she suffers blow after blow when a past she didn't even know she had catches up with her. Readers will applaud her resilience and determination to solve the mystery and save the lives of the people she loves – even when the face of the boogeyman turns out to be someone she never expected. Don't miss this thrilling ride!" – Kelly Irvin, bestselling author. 
STILL LIFE  by Christa Parrish, 813.6 Par. "Ada escaped her family's self-enclosed world to elope with a mysterious stranger. Five months later, she's a widow in a strange new world." "This is a cunningly complex work that captures themes of abusive religion, supernatural love, and merciful escape. It will resonate with anyone who has ever felt called to a drastic change – or tried to hear the small whisper of God's voice." 
STRANDS OF TRUTH by Colleen Coble, 813.54. "Harper Taylor is used to being alone – after all, she grew up in one foster home after another. Oliver Jackson finally took her under his wing when she was a runaway teenager, and now Harper pours her marine biology knowledge into Oliver's pen shell research. But she's never stopped wishing for a family of her own…So when a DNA test reveals a half-sister living just two hours away, Harper is both hopeful and nervous. Over warm cinnamon rolls, Harper and Annabelle find striking similarities in their stories. Is it just a coincidence that both their mothers died tragically, without revealing Harper and Annabelle's father's name? Oliver's son, Ridge, still sees Harper as a troubled teen even all these years later. But when Oliver is attacked, Ridge and Harper find themselves working together to uncover dangerous secrets that threaten to destroy them all. They must unravel her past before they can have any hope for the future." 
 STRANGER IN A LIFEBOAT, THE by Mitch Albom, 813.6 Alb. Taken from the inside cover: "What would happen if we cried out to God for help and someone claiming to be God actually appeared before us? In Mitch Albom's profound new novel, a group of shipwrecked passengers must face that challenge when a strange man they pull from the water says he can save them all, but only if they believe in him. "  
STUFF YOU GOTTA KNOW by Minnesota author Guy Doud, 248.82 Dou. "Straight talk on how God helps with friendships and school and measuring up and parents and dating and bad grades and more. All the stuff you gotta know." I discovered this gem while shelving books and found it to contain down to earth wisdom that parents of teens may want to share with their family. Actually, anyone who is looking for answers to "How do I know God's will for my life?" "How do I share my faith without sounding like a nerd?" "If God is love, why is the world so full of pain?" will find good stuff in this book! I highly recommend it. – Reviewed by Janie Carlson.  
SUGAR CREEK GANG books 1 – 6 by Paul Hutchens, JUV Hut. The author's memories of childhood adventures around the fishing hole, the swimming hole, the island, and woods that surround Indiana's Sugar Creek inspired these beloved tales. 
SWEET MISFORTUNE  by Kevin Alan Milne, at 813.6 Mil. Nine-year-old Sophie had just had the best and very worst day of her life. On the way home from celebrating her 9thbirthday at a fancy restaurant, she insisted her Dad look around at something she held in her hand. The next moment the horrible multi-car accident left her father, mother, and grandmother all dead, as well as another man. Her entire family gone in an instant and it was all her fault. By age 29 her guilt and self-loathing still constantly tormented her. It's been said that the hardest person to forgive is one's self. The very surprising ending to the book finally accomplishes that for Sophie. A worthwhile read. – Reviewed by Alice Hill.   
SWEET VOICE, A  by Margo Hansen, 813.54 Han. "Shanghaied, tortured, and beaten down, Keane Wheatly turns to fellow prisoner for help. Together Keane and his friend Jake make their escape back to the Wheatly farm in Ulen, Minnesota, as far from an ocean as they can get. But adjusting to everyday life isn't easy with the memories they both carry. Each day they rely more and more on God's grace." 
TALL TIMBER TRIOLOGY by Margo Hansen, 813.54 Han books 1, 2 and 3. This series titled GREATLY BELOVED, ONLY BELOVED, and BROTHER BELOVED is set in the logging industry of Grand Rapids, Minnesota from 1888 to 1908. Though we're all thoroughly familiar with this subject, the author has done much research on logging in that time frame. She has managed to craft a unique story of two separate families when a stunning revelation leaves them with an unsolvable problem. The story also contains much personal witnessing by family members to each other. A surprisingly interesting series. – Reviewed by Alice Hill.
 TANGLED WEBS by Irene Hannon, 813.54 Han. Bk 3 of the Men of Valor series. Finn McGregor ends his 6 year Army Ranger career after a near death injury and lingering guilt over combat events. He decides to spend some quiet time in the backwoods of Missouri to try to get his life back on track. His stay is anything but tranquil – he meets a beautiful troubled woman, stumbles into the middle of a meth operation, and encounters a sheriff who has his own battles to fight. Finn's combat skills will soon be needed when danger threatens. Very well written Christian novel with a true-to-life message of love and redemption. A good read for all, especially mystery/thriller lovers. – Reviewed by Corinne Hultman.  

THAT CERTAIN SUMMER  by Irene Hannon, 813.54 Han. "Two very different sisters…an unexpected homecoming…one unforgettable summer." With her trademark compelling characters and heartwarming hope, award-winning author Irene Hannon pens an inspiring true-to-life tale of complex relationships, the search for forgiveness, and the life-changing process of finding love. 
THIN ICE by Irene Hannon, 813.54 Han, Book 2 of the Private Justice Series. This was another page-turner, sit on the edge of your seat mystery by Hannon. This one had FBI Special Agent Lance McGregor tracking down a would-be kidnapper of a woman who supposedly died 2 months earlier in a house fire. Now her sister, Christy, has been receiving letters that her sister is alive and being held captive. The culprit is a very twisted and shadowy figure who is out to do no good for either of the sisters. Well-written and with a good Christian message intertwined. – Reviewed by Corinne Hultman. 
THINGS LEFT UNSPOKEN by Eva Marie Everson, 813.6 is described in the National Church Library Association Newsletter as follows: "Jo-Lynn is going through a mid-life crisis. Her marriage is faltering and she's lost her identity as a woman of value. When her uncle dies, great-aunt Stella asks her to come back to restore the old family homestead in Georgia. As she peels back the old layers of the home, Jo-Lynn discovers family secrets hidden for decades. When she starts asking questions, she is threatened. Along the way, she rediscovers the value of family and belonging to a community. The author clearly has a personal understanding of the culture and history of the south and has developed a story with an interesting plot, captivating mystery and the discovery of God's purpose for the main character."
THINKING OUTSIDE OF THE BOX AND INSIDE THE BOOK by Paul Durocher, 248.8 Dur. In the author's forward he says: "The intent of this book is meant to be a popular and practical hands-on-book which demonstrates biblical principles in real life situations." Topics covered are Priorities, Happiness, Marriage, Children, Education, Money, and Rest – all contained in 175 pages!
THREADS OF SUSPICION by Dee Henderson, 813.54 Hen Bk 2 of An Evie Blackwell Cold Case series. Taken from the book blurb: "Evie and her new partner, David Marshall, are assigned to a pair of unrelated cases in suburban Chicago, and while both involve persons now missing for several years, the cases couldn't be more different. As Evie opens old wounds in a close-knit neighborhood over the disappearance of a college student, David searches for a private investigator whose last case involved a high-powered client…With a deep conviction that "justice for all" truly matters, Evie and David are unrelenting in their search for the truth. But the questions that lie just beneath the surface in Evie's personal life are also begging for answers." 
THROUGH WATERS DEEP by Sarah Sundin,813.6 Sun, book 1. "Fascinating history, interesting location, touching romance – the author packs it all in this page-turning story. Readers are sure to enjoy living this stirring WWII-era adventure." 
'TIL I WANT NO MORE by Robin W. Pearson, 813.6 Pea. Taken from the book blurb: "…feels like an extended afternoon at a family reunion barbecue, complete with mouthwatering food, spilled family secrets, and voices of faith that never lose hope. This brilliantly written story reminds us that God is bigger than the struggles that all families face, yet as a woman of color, I love that Robin's courageous characters look and sound like me" – Barb Roose, speaker and author of Surrendered: Letting Go and Living Like Jesus. 
TIME TO DANCE, A (book 1) and TIME TO EMBRACE, A (book 2) by Karen Kingsbury, 813.54 Kin. These two books must be read in this order. You may have seen the TV movie based on book 1, but the book is far superior to the movie. A family strongly committed to God and each other struggles to maintain their faith as pressures of life drive them further and further apart from each other, from God, and even their community's support. This excellent Christian author has again crafted a realistic and poignant story of loss and restoration. – Reviewed by Alice Hill. 
TIME TO STAND, A  by Robert Whitlow, 813.54 Whi. "In a small Georgia town where racial tensions run high and lives are at stake, can one lawyer stand up for justice against the tide of prejudice on every side? This highly relevant and griping novel challenges us to ask what it means to forgive while seeking justice and to pursue reconciliation while loving others as ourselves."  
TO SEE AND KNOW by Margo Hansen, 813.54 Han.  This is a sequel to SWEET VOICE,  A. "Garrett Foxe needs answers and the place to find them seems to be in Ulen, Minnesota. The papers he found among his mother's things reveal that she had lied to him all his life. Can the people here help him find the truth?" 
TRACES OF GUILT by Dee Henderson, 813.54 Hen Bk 1 of An Evie Blackwell Cold Case series. Taken from the book blurb: "She's turning up the heat on Carin County's cold cases. Evie Blackwell loves her life as an Illinois State Police detective…mostly. She's very skilled at investigations and has steadily moved up through the ranks. She would like to find Mr. Right, but she has a hard time imagining how marriage would work, considering the demands of her job. …Gabriel Thane grew up in Carin County and is now its sheriff, a job he loves. Gabe is committed to upholding the law and cares deeply for the residents he's sworn to protect. He too would like to find a lifetime companion, a marriage like his parents have…When Evie arrives in Carin, Illinois, it's to help launch a new task force focused on unsolved crimes across the state. She will work with the sheriff's department on a couple of its most troubling missing persons cases. As she studies old evidenced to pull out a few tenuous new leads, she unearths surprising connections. One way or another, she knows Gabriel Thane and his family will be key to the answers she seeks." 
TRAVELING A PILGRIM'S PATH – Preparing your child to navigate the journey of faith  by Craig & Janet Parshall, 248.8 Par. Taken from the back cover: "…an essential road map for parents longing to give their children clear guidelines for life's journey. Drawing from the classic wisdom of John Bunyan's Pilgrim's Progress, Craig and Janet Parshall give you on-target strategies and hundreds of practical ideas for showing your children how to make wise moral choices. This empowering book will help you prepare your children to successfully navigate life with a steady sense of godly direction." 
TREASURY OF DAILY PRAYER by Scot Kinnaman, 242.8 Kin. It takes us on a daily journey of Psalmody (Psalms), Old Testament readings, New Testament readings (using NIV), short sermon, Hymnody (short stanza from LSB), Prayer of the Day, and suggested readings from Book of Concord. There are also other helps too numerous to mention. Check it out!
TRULY, MADLY, DEEPLY by Karen Kingsbury, 813.54 Kin. Taken from the back cover: "In the shadow of great loss, the only way to live with passion is truly, madly deeply…But Annalee hasn't been feeling well, and medical tests reveal the unthinkable…While his girlfriend begins the fight of her life, secrets come to light that rock Tommy's world, and he becomes determined to spend his future fighting crime and making his community safer. Or is he just compensating for the battle he cannot win – the one facing Annalee?" – Kingsbury is known for her deeply heartfelt novels – and her latest is no exception…A tale of faith, strength, and true love." – Woman's World.  
UNKNOWN THREAT by Lynn H. Blackburn, 813.6 Bla, Bk 1 of Defend and Protect series. Taken from the book blurb: "US Secret Service Special Agent Luke Powel is lucky to be alive. Three of his fellow agents have died in unusual circumstances in the past ten weeks. Luke is devastated by the loss of his friends and colleagues, and his inability to locate the killer feels like a personal failure. He and his team are experts at shielding others, but now the protectors are in need of protection…"   

UNFINISHED – BELIEVING IS ONLY THE BEGINNING by Richard Stearns, 248.4 Ste. "So you believe in God. Now what? Just before he left, Jesus sent his followers into the world with a revolutionary mission: to change the world by proclaiming God's truth and demonstrating his incredible love. But the single task he gave us to accomplish remains unfinished. Why are we here, what is our purpose, and where do we fit in the bigger story that God is writing? How should our faith affect our careers, our money, our families, and our lives? And why does it matter? We will find our deepest purpose only when we discover the unique role God created for us to play in his unfolding story." 

UNDER THE BAYOU MOON by Valerie Fraser Luesse, 813.6 Lue. Taken from inside the front cover: "With atmosphere dripping from every page like Spanish moss on a cypress tree, Valerie Fraser Luesse brings the Louisiana bayou to vivid life in this story of one woman stepping out in faith to pursue her purpose. This memorable tale of love – love for self, love for others, and the love for the land – will expand in your heart just as the ripples from a boat's passage touch every secret corner of the bayou." – Erin Bartels, author of THE WORDS BETWEEN US (which we have in our church library).   

UNDER THE TULIP TREE by Michelle Shocklee, 813.6 Sho. Taken from the book blurb: "Sixteen-year-old Lorena Leland's dreams of a rich and fulfilling life as a writer are dashed when the stock market crashes in 1929. Seven years into the Great Depression, Rena's banker father has retreated into the bottle, her sister is married to a lazy charlatan and gambler, and Rena is an unemployed newspaper reporter. Eager for any writing job, Rena accepts a position interviewing former slaves for the Federal Writers' Project. There, she meets Frankie Washington, a 101-year-old woman whose honest yet tragic past captivates Rena….As Frankie recounts her life as a slave, Rena is horrified to learn of all the older woman has endured – especially because Rena's ancestors owned slaves. While Frankie's story challenges Rena's preconceptions about slavery, it also connects the two women whose lives are otherwise separated by age, race, and circumstances. But will the bond of respect, admiration, and friendship be broken by a revelation neither woman sees coming?"  
UNVEILING THE PAST by Kim Vogel Sawyer, 813.6 Saw. Sean and Meghan are newlyweds who are no strangers to pain and loss. "As cold-case detectives, they know intimately the anguish family members endure after the murder or disappearance of a loved one. But when a new case hits too close to home, it threatens to pull loose the fragile cords of their young marriage…Sheila was just a girl when her father left for work and never returned. An investigation revealed he had embezzled enough to start a new life elsewhere, but Sheila could never accept the court's criminalization of her father. Meghan reluctantly takes the case, secretly fearing it will stir up buried feelings about her own biological father. And while Sean investigates the mysterious death of two young brothers, he longs to start a family. But Meghan worries that with a negligent mother and an absentee father as her parenting examples, she might never be fit for motherhood…As they delve deeper into the past, both Meghan and Sheila must choose to either stumble along the road of bitterness and resentment or walk the difficult path toward forgiveness and healing. When the cases begin to break wide open, these young women are poised to discover that while earthly fathers may fail, there is one in heaven who is a father to the fatherless." "Mysteries, family secrets, and the love of a true Father are found at the heart of this follow-up novel to BRINGING MAGGIE HOME." 
WALKING IN TALL WEEDS by Robin W. Pearson, 813.6 Pea. The author "takes a brave and deep journey through the tall weeds of a family's old pain, nagging fears, and challenging choices – painting a portrait of the path any willing family can take to finally walk into the promise of courageous, new life."
WATER KEEPER, THE by Charles Martin, 813.6 Mar. Book 1 – a Murphy Shepherd Novel. Taken from the back cover: "Murphy Shepherd is a man with many secrets. He lives alone on an island, tending the grounds of a church with no parishioners, and he's dedicated his life to rescuing those in peril. But as he mourns the loss of his mentor and friend, Murph himself may be more lost than he realizes…When he pulls a beautiful woman named Summer out of Florida's Intercostal Waterway, Murph's mission to lay his mentor to rest at the end of the world takes a dangerous turn. Drawn to Summer, and desperate to find her missing daughter, Murph is pulled deeper and deeper into the dark and dangerous world of modern-day slavery…With help from some unexpected new friends, including a faithful Labrador he plucks from the ocean and an ex-convict named Clay, Murph must race against the clock to locate the girl before he is consumed by the secrets of his past – the ghosts who tried to bury them." 
 WATER'S EDGE by Robert Whitlow, 813.54 Whi. Taken from the back cover: "Sometimes small towns hold the biggest secrets. Ambitious young attorney Tom Crane is about to become a partner in a high-profile Atlanta law firm. But first he must clear one final matter from his docket – the closing of his deceased father's law practice in his hometown of Bethel, Georgia. Killed in a mysterious boating accident, John Crane didn't appear to leave his son anything except the hassle of wrapping up loose ends…But instead of celebrating his promotion, Tom finds himself packing up his office, having suddenly been 'consolidated.' To add insult to injury, the same night his girlfriend breaks up with him…by letter."   
 WAY IT SHOULD BE, THE by Christina Suzann Nelson, 813.6 Nel. Taken from the back cover: The author …"doesn't shy away from the horrors of addiction nor the heartache of the foster system and family brokenness. But in the midst of the hurt, she offers pictures of grace, glimpses of beauty, and the hope of redemption." – Lauren Denton, USA Today bestselling author. 
 WE HOPE FOR BETTER THINGS by Erin Bartels, 813.6 Bar. Taken from the book blurb: "Take an emotional journey through time – from the volatile streets of 1960s Detroit to Michigan's Underground Railroad during the Civil war – to uncover the past, confront the seeds of hatred, and discover where love goes to hide." Taken from the Author's Note: "It was 2012 when I first started thinking about the story that would become WE HOPE FOR BETTER THINGS. It was before a string of highly publicized deaths of African American men and boys at the hands of white police officers. It was before the murders of nine black worshipers in a Charleston church. It was before white nationalism was making national news – again." As I researched, wrote, revised, and sought publication (for this book) in the next seven years, I was constantly reminded of its unfortunate timeliness. This novel was not written as a response to those events. It was written in the midst of them, born out of my own struggle to comprehend the scope, understand the roots, and empathize with the victims of racism in America. It was an attempt to reckon with something that could not be reconciled." 
WHAT HOPE REMEMBERS by Johnnie Alexander, 813.6 Ale, Bk 3 of Misty Willow series. Our library also has Bk 1 Where She Belongs and Bk 2 When Love Arrives. Taken from the back cover: "When you need a new beginning, sometimes the best place to start is home…When Amy Somers leaves her job as a lobbyist, she moves to Misty Willow, well aware that she's crossing bridges she'd burned years before. With all the mistakes she's made and the things she's done, she can hardly believe that happiness will find her – especially when Gabe Kendall, her first crush and her first kiss, rides back into her life atop a buckskin mare." 

WHAT THEY NEED TO HEAR - SHARING CHRIST WITH FAMILY AND FRIENDS by Klemet Preus, 269.2 Pre. "Maybe above all else, we want our family members and friends to rejoice with us in God as our Savior. Yet, those closest to us often present us with the greatest challenges for our witness."

WHAT'S GOING ON AMONG THE LUTHERANS?   by Patsy A. Leppien, 284.1 Lep. One of the blurbs on the back of the book states:  "Many lay people underestimate the seriousness of the doctrinal differences which separate confessional Lutherans from liberal Lutheran churches throughout the world.  We pray that wide circulation of this book will open the eyes of those who are threatened by their destructive theology and that it will stir up all those who are complacent about its spread to rise up and oppose its deadly inroads into the Lutheran church."  - Dr. John F. Brug, Wisconsin Lutheran Seminary, Mequon, Wisconsin.  
WHEN BAD CHRISTIANS HAPPEN TO GOOD PEOPLE by Dave Burchett, 241.21 Bur.  "God loves you just the way you are but He refuses to leave you that way" a quote from Max Lucado. There are so many ideas presented; here are a few. Why do people leave the church? How do we reach these people before the decision is made? A church not relevant will not change lives. Kids pick up what they hear and see adults do. The church is composed of all levels of spiritual understanding, commitment and maturity. As we speak and act, who is our audience? We only have one chance to make a good first impression. It's never more important than for followers of Christ. How do we view "Christian products" such as Testamints breath mints, Jesus Saves air freshener, bumper stickers, T-shirts? Chick-Fil-A, a company that is closed on Sundays to allow employees to worship. It also supports missions, especially foster homes for children in the southeast. Where are we putting our retail dollars? Are you marketing Jesus by your life? Read and be reenergized into thinking of what we value and what our children see. -  Reviewed by Darlene Baltus. 

WHEN TO WALK AWAY– Finding freedom from toxic people by Gary Thomas, 248.4 Tho. "Have you ever counted how many times Jesus walked away from toxic people or let toxic people walk away from Him? The answer may surprise you. The author draws from biblical and modern stories to equip you with practical insights to overcome the opposition of toxic people in your life and live true to your God-given purpose. Your life's calling is too important to let toxic people take it away." You'll also discover how to "learn the difference between toxic people and "difficult" people" and to "keep a tender heart even in unhealthy relationships". 
WHERE SHE BELONGS by Johnnie Alexander, 813.6 Ale, book 1. Can love redeem a broken past? "Shelby Kincaid is ready to move forward after the death of her husband left her devastated. With high hopes for the future, she longs to purchase her family's homestead, Misty Willow, so she can raise her young daughters in the only place she ever truly belonged. She plans to transform the abandoned house into the perfect home for her memories. But she has her work cut out for her." 
WINDY CITY SAGA: BOOK 1 VEILED IN SMOKE, BOOK 2 SHADOWS OF THE WHITE CITY AND BOOK 3 DRAWN BY THE CURRENT by Jocelyn Green, 813.6 Gre. These three historical fiction books take place in Chicago starting in 1871 during the Great Fire that swept through Chicago's business district. Book 2 takes place in 1893 with the World's Columbian Exposition. Book 3 takes place in 1915 when the SS Eastland capsizes. 
WINNER'S GAME, THE by Kevin Milne, 813.6 Mil. This book is not about sports, but about a dysfunctional family. The hostile parents are near divorce and the three children ages 17, 13, and 8 are becoming increasingly hateful toward each other. They had heard of The Winner's Game that saved their great-grandparents marriage. When tragedy strikes the family, all involved learn that sometimes a loser is really the winner. "This is an excellent book." Reviewed by Alice Hill.

WITH THIS PLEDGE  by Tamera Alexander, 813.6 Ale, book 1. From the pages of history and the personal accounts of those who endured the Battle of Franklin in Tennessee, the author weaves the real-life letters between Captain Roland Ward Jones and Miss Elizabeth Clouston into a story of unlike romance first kindled amid the shadows of war.
WORDS BETWEEN US, THE by Erin Bartels, 813.6 Bar. "…this is a story to savor and share: a lyrical novel about the power of language and the search for salvation. A secondhand bookstore owner hiding from a legacy of scandal, tragedy and heartbreak must unlock the secrets of the past to claim her happiness." "Vividly drawn and told in expertly woven dual timelines."  
WRAPPED IN RAIN  by Charles Martin, 813.6 Mar. This is a book I liked that you might too – where true brotherly love triumphs over hatefully inflicted injuries of the past. – Alice Hill. 
YESTERDAY'S EMBERS by Deborah Raney, 813.54 Ran, Bk 3 of a Clayburn novel. Taken from the back cover: "He never thought he'd be widowed…with five young children. She never thought she'd be thirty and still single. But is falling in need the same thing as falling in love?"